Choosing 100% natural for your baby is a healthy choice
3 Raw Banana Powder Recipes For Babies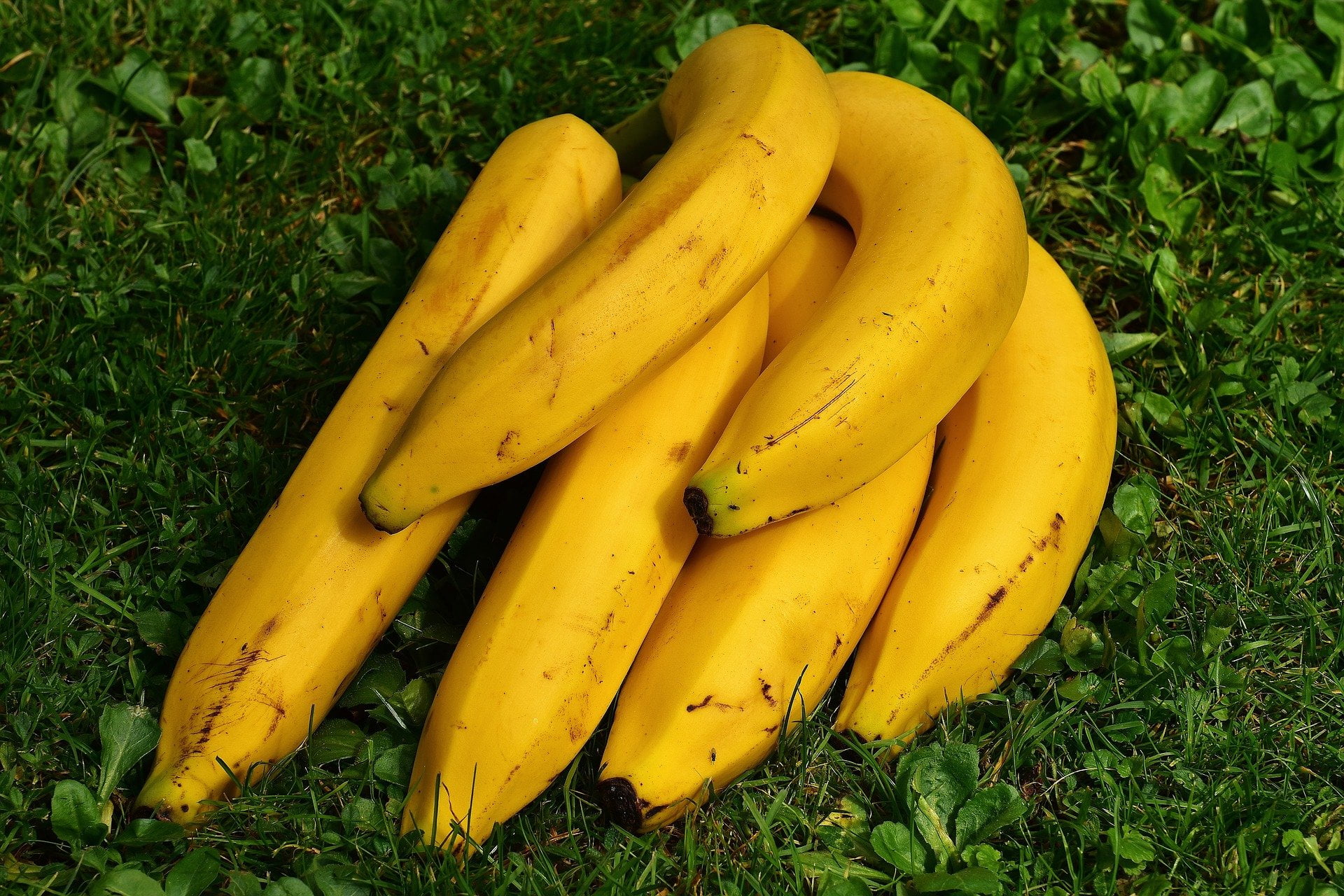 Are you in search of Raw Banana Powder Recipes? Then you are in the right place. Raw banana powder is an amazing food that helps in building immunity in babies. It is also a powerhouse of nutrients that are essential for your baby's natural growth. In this article, we have shared some amazing recipes that you can try with raw banana powder.
In South India, bananas are extremely popular, and you can choose from a wide variety of varieties! Kerala sadyas are difficult to find and don't serve small bananas along with the main course! Babies are even introduced to bananas as early as infancy, in the form of raw banana powder porridge. Learn how to make delicious snacks and desserts for babies by following these recipes for baby food. Generally, steamed bananas are used for this recipe. Make sure that you use raw, larger varieties of Kerala bananas.
Why Banana For Babies?
Bananas can be considered a superfood for babies that is easily available. The roots are easy to digest and contain a lot of fibre and nutrients that help with growth and development. Besides carbohydrates, bananas provide essential nutrients for babies' development, such as folate, vitamin B6, vitamin C, and potassium. Get Kerala banana powder from Yummy Valley to make the most out of recipes for baby food.
This combination of nutrients helps maintain the nervous system, skin health, and blood pressure. For a quick snack, choose bananas for babies. If you cannot make raw banana powder at home, choose Yummy Valley's baby food products. It is safe, reliable, and good for babies. It lets you track each ingredient back to its source in a transparent manner.
Nutritious Properties Of Raw Banana Powder For Babies
Phosphorus, calcium, iron, potassium, and calcium are abundant in it.
It contains a lot of fibre, which makes it easy to digest.
Raw Banana Powder Recipes For Babies
Here are some of the raw banana powder recipes you can try;
1. Raw Banana Halwa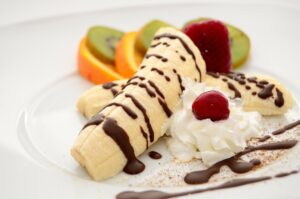 If you've ever been walking through the streets of Kerala, especially northern Kerala, you've probably noticed little sweet shops tucked away between larger stores. In these shops, you can find large colourful blocks of translucent halwa, in every colour of the rainbow! We are gonna discuss recipes for baby food such as raw banana halwa and more.
Halwas are pretty big in India and are made from a variety of fruits, dry fruits, or a combination of both. Here's a halwa recipe that'll bring back memories of Kerala. I have to assure you that this is not a difficult recipe to make – you will love this halwa raw banana powder recipes and will want to make it over and over again!
The Preparation time is just 5 minutes. Few ingredients mean less prep time.
It takes 15 minutes to cook the ingredients.
The total time required is 20 minutes.
Ingredients
:
Two tablespoons of raw banana powder.

One-quarter cup of 100% organic jaggery syrup

One tablespoon Ghee for the halwa and two tablespoons for the nuts

Two teaspoons of mixed nuts: cashews and almonds.

A pinch of Cardamom Powder
Method
:
Make a smooth mixture by cooking the raw banana powder with jaggery syrup and whisking it. Combine ghee with the cooked banana powder and stir until incorporated. Cook nuts in ghee while the ghee is heating up.
Continue cooking at a low temperature. Stir in the nuts and cardamom powder as the mixture starts to thicken.
Spread the halwa on a flat plate after it has thickened and let it cool. Slice it into squares as soon as it is cool. It is optional to garnish it with saffron strands before setting it.
That was easy, wasn't it? You don't have to peel, dry, or slice bananas to use Yummy Valley's Raw Banana powder – it's already been done for you! You can now enjoy some Banana Halwa in your home, a taste of Kerala!
2. Jaggery-Filled Banana Fritters
During the rainy season, most people crave savoury fritters and pagodas, accompanied by piping hot masala tea! However, what about little kids or toddlers who are not fans of spicy food? We have just the thing we need to satisfy their sweet tooth today – banana fritters! 
These banana fritters are very easy to make and are made with Yummy Valley's Raw Banana powder. Since they're made with jaggery, they're also sugar-free! Continue reading for more recipes for baby food.
Ingredients
:
Half a cup of wholewheat flour

2 tablespoons of raw banana powder

2 tablespoons grated jaggery.

A quarter cup of water.

Cardamom powder, 2 pinches

Slices of coconut may be added if desired

Cooking oil
Method
:
Bring the jaggery and water to a boil to make a simple syrup.

Put the raw banana powder, followed by the cardamom powder, into the wheat flour.

Stir the wheat flour and banana powder together before adding the jaggery syrup. Using a mixer, mix the flour and banana powder evenly to form a smooth, thick batter. A few drops of warm water can be added if the batter is very dry or lumpy.

Make sure the batter is not runny. Let the batter rest for 2 hours.

Preheat the wok with oil. Put one tablespoon of batter in the oil after reducing the flame. Follow the same steps with the remaining batter.

Ensure even cooking on all sides by frying on a low flame. Drain the finished product on tissue paper after it has been fried.
When you open the fritters, they should be firm but spongy. In the rain, as softness fills your mouth and the sweetness of the banana and jaggery floods it, you will attain bliss! You won't be able to resist popping a piece into their mouths with these perfectly round, spongy fritters.
3. Raw Banana Coconut Payasam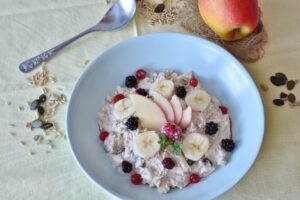 The school has started again, so prepare yourself for when kids walk in the door one evening with bags on the floor, head straight for the refrigerator, and declare, "I am hungry.". Rather than frying snacks for your kids, make them a fragrant, lovely banana coconut payasam made without sugar! I admit that it is a new flavour to me, but it is a very pleasant one! Sweet-toothed babies will enjoy these recipes for baby food.
Banana Coconut Payasam is a simple recipe that requires little time and effort. Get the natural and traditional taste of Kerala with banana coconut payasam. The recipe you are about to try is a tasty one that I promise you will want to make over and over.
Ingredients
:
1 tablespoon raw Kerala banana powder

Half a cup of water

Grated organic jaggery (Use 3 tablespoons)

1 teaspoon ghee

A mixture of 1/4 cup coconut milk and 3 tablespoons of water.

Cardamom powder, a pinch

Ginger powder, a pinch

Dry almond slices, raisins, and cashews fried to garnish
Method
:
Put water in a pan and mix Raw Banana Powder, making sure no lumps form.

Allow the mixture to cook for two to three minutes. When the mixture begins to thicken, add the ghee and mix well.

Grate the jaggery into the mixture, followed by dilution of the coconut milk and then cardamom powder.

Stir in the ginger powder.

Add the raisins, cashews, and sliced coconut pieces at the end.

Stir and serve while still warm.
Payasams made with bananas are nice and sweet and are comforting when it's raining outside. Coconut milk contributes a nice smoothness to the dish, while the coconut bits give it a nice crunch. A simple, tasty payasam that's perfect for both young and old!