/ Sprouted Ragi For Babies: Quick and Easy Recipes
Sprouted Ragi For Babies: Quick and Easy Recipes
Quick and Easy Sprouted Ragi Recipe
The most common image of Ragi that comes to mind is that of squishy baby porridge. The taste of porridges changes with age, and so ragi alone do not bring extra flavors a part of the diet for toddlers. Fortunately, this doesn't have to be the case! This nutritious grain such as sprouted ragi for babies is now available in several different recipes to continue being a part of your child's diet.
Ragi can be made into a wide variety of dishes, including cookies, laddus, crackers, pancakes, halwa, cakes, dosas, uttappams, idlis, pooris, and even buttermilk!  We've come up with a new drink recipe that uses sprouted ragi powder from Yummy Valley, which contains sprouted ragi, almonds, and no artificial flavors or added sugar.
Additionally, almonds contribute to the nutty flavor and supply essential fatty acids that can increase vitamin and mineral absorption. An easy and tasty recipe for kids and adults sprouted ragi malt is filled with great nutrition!
Under American Academy of Pediatrics guidelines, breast milk is the only type of nutrition recommended for babies under 6 months of age. Ragi can be introduced as a first food to babies beginning at age 6 months. Babies older than one year old can enjoy this recipe.
Sprouted ragi for babies are even more nutritious than their un-sprouted counterparts. Ragi that is sprouted has a higher bioavailability of iron and is easier to digest, even for little ones who have never eaten ragi.
Sprouted Ragi Health Drink
The organic energy drink I prefer most often is this one. In addition to being easy to prepare, it also requires very few ingredients and steps. In case you get sprouted ragi powder you have already done half of the work. The quality sprouted ragi powder available at Yummy Valley is a great buy.
Ingredients:
One cup of hot milk
Two teaspoons of sprouted ragi mix
Method:
Fill a pan with raw milk after it has been rinsed.
Place the milk on a stovetop to boil. Let it boil for a few minutes, then turn off the heat.
Two teaspoons of Sprouting Ragi Malt drink mix per glass or cup will do.
Make a smooth, lump-free beverage by pouring hot milk over it while continuously stirring.
Serve as soon as possible.
Ragi malt can be given as a nutritious energy drink in the morning or as an after-school drink with an additional energy boost. The drink can be served either warm or cold depending on the time of year. In short, Sprouted ragi for babies is easy to prepare, delicious, super nutritious, and incredibly versatile!
Finger-Millet Pudding
The inclusion of this natural food in your child's diet is essential because it has high nutritional value and helps with bone strength and anemia prevention. The ragi kheer [Finger-Millet Pudding] or Ragi payasam or Ragi pudding is made with sprouted ragi, suitable for babies 8 months and older.
The sprouted food is very digestible and incredibly nutrient-dense. Dry dates powder and dried fruits powder are also included in this recipe. The natural sweetener dates powder has energy-giving and brain-boosting properties. Powdered dried fruits are good for weight gain and assist in the brain and body development of babies.
Ingredients:
Sprouted Ragi Powder – four tablespoons
2 tablespoons date powder
1 teaspoon powdered dry fruits
1 tablespoon of ghee
2 cups of hot water
Method:
Preheat a pan with Ghee.
Then add the Ragi powder and sauté for 3-5 minutes until a nice aroma emerges.
Stir well without lumps as you add hot water little by little.
Allow it to cook for five minutes on a low flame.
Add dates powder and dry fruits powder.
Stir well and cook for another 2 to 3 minutes.
Serve warm with saffron and garnished with saffron.
If your baby is 8 months or older, you can use this recipe. Whenever you introduce new foods, give them only during the daytime (in the morning). It is perfectly fine to introduce a new food at any convenient time when the baby is comfortable with it. It is possible to make this recipe with milk instead of water if the baby is older than one year old.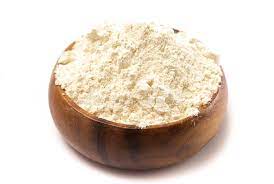 Ragi Teething Biscuits for Babies
During the first weeks after a baby is born, parents often struggle with figuring out why their infant is crying. When they figure out that the baby wants food, a diaper change, or a cuddle, yet another reason comes to mind — teething! Homemade remedies for teething can be found everywhere, and one of them includes teething biscuits.
However, store-bought teething biscuits aren't exactly the best choice, especially since most of them contain refined flour and white sugar. You can avoid giving your baby all that junk by giving them our healthy and yummy Ragi Teething biscuits using sprouted ragi for babies. As well as providing teething relief, these snacks are also nutritious!
Ingredients:
Half a cup of Ragi powder
A tablespoon of butter melted
Cinnamon powder, one teaspoon
Banana, 1 large ripe one
METHOD
The oven should be preheated to 180 degrees Celsius for 15 minutes.
Use a fork to mash the ripe banana.
Adding cinnamon powder and ghee to the banana is a good idea.
The Ragi Powder needs to be combined with the banana mix along with water, but it cannot be diluted.
Pinch out portions of dough of equal size. Create small oblong shapes with each portion.
Make sure to leave little gaps between each biscuit shape on a baking sheet. Place the cookies in a preheated oven and bake for 12-15 minutes.
Place the cookies on a wire rack and let them cool down completely before transferring them to an airtight container.
It is beneficial to use ragi powder that is 100% natural. There's the great assurance that you're giving your baby only natural ingredients without any preservatives. In addition, this powder contains sprouted ragi for babies, which contributes to the snack's protein content. Besides, since the powder is already prepared, you don't have to go through the trouble of preparing it yourself! Ragi teething biscuits for babies over 7 months no longer contain baking powder or baking soda, making them ideal for a young baby. This teething baby recipe is just perfect for you if your baby is teething!