/ Quick And Easy Sugar- Free Baby Food Recipes For 1 Year Old
Quick And Easy Sugar- Free Baby Food Recipes For 1 Year Old
Baby Food Recipes For 1 Year Old
Baby food high in sugar can lead to a sweet tooth as early as the first year of life, according to health experts. Children with sugar-heavy diets are at risk for health problems such as obesity and diabetes later in life.
When you add spices appropriate to a baby's age, you can make the food more interesting and tasty for the baby. These baby food recipes for 1 year old will help you prepare delicious food for your baby. Fresh fruit can be naturally sweetened when added to baby food.
Baby Cereal Pancakes
The Baby Cereal Pancakes Recipe is a delicious breakfast, lunch, dinner, or snack for you, your little one, and the entire family! Follow the baby food recipes for 1 year old for more details.
You should make Baby Cereal Pancakes if you have leftover commercial baby cereal. You can add extra nutrients to your baby's diet with this recipe for tasty baby cereal pancakes. Your whole family will love them.
You won't find a more tried and true recipe for baby cereal pancakes than this one. Below you will find even more tips and tricks for preparing sugar-free treats for babies.
Ingredients:
A cup whole wheat flour (this will make a dense pancake; you can use One and a half cups of all-purpose flour if you prefer)
Half a cup of uncooked commercial baby barley cereal or rice cereal.
Half a cup of uncooked commercial baby oatmeal cereal.
A cup of formula or another liquid such as milk.
Half a cup of mashed banana or fruit of your choice.
One tablespoon melted unsalted margarine or butter
Three egg yolks
You can use apple juice about 1/2 cup or water if you prefer
Spice the bread with cinnamon, nutmeg, vanilla, or any other flavoring you prefer.
Directions:
First: Combine all ingredients into a smooth batter by adding enough juice.
Second: You can cook the pancakes on your stovetop in a frying pan as you would with "regular" pancakes. If you cook these baby cereal pancakes on a griddle, the temperature will be more controlled and you will be able to keep the temperature constant.
Make sure you cook them on low or medium heat.
If you love banana-flavored baby cereal, then you will love this.
Toppings:
Instead of maple syrup, spread with yogurt and fruit puree. Plain fruit puree may also be spread over pancakes a thin layer of cream cheese may be spread over pancakes Drizzle plain yogurt over the pancakes
When feeding these to your baby or toddler, ensure that you supervise them carefully. If eaten in large quantities, pancakes can pose a choking hazard.
FAQ: Baby Cereal Pancakes
What Kind Of Pan Are You Using To "Fry" The Pancakes? 
The outside of teflon-coated thin-walled pans tends to burn while the inside remains runny or gooey, according to experience.
A cast-iron skillet which also provides an additional benefit of iron) or a heavy skillet cooks our best pancakes. Our stoves and another contributor's stove work best at a temperature just a bit below medium.
Do You Use Any Type Of Coating On The Pan? 
It is common for the coating to heat up and then burn the pancake before it is cooked, causing it to burn on the outside.
Are You Using Whole Wheat Flour Or Refined "All-Purpose" White Flour? 
It may be a result of the density of the flour used that prevents the pancake from cooking thoroughly on the inside. Due to the lower levels of gluten in whole wheat flour, the pancakes will be heavier and denser, resulting in a "rubbery" texture.
There is an issue with whole wheat flour that is not known to people who have never cooked with it before. You could try substituting half of the wheat flour with half all-purpose flour. If you'd like, you could also add some baking powder to make the pancakes less dense and more fluffy. Every 1 cup of whole wheat flour requires 1 tablespoon of baking powder.
You may also find that using a whole grain baby cereal will make the pancakes thicker and heavier, resulting in further a rubbery texture. Use quality ingredients when trying out these baby food recipes for 1 year old.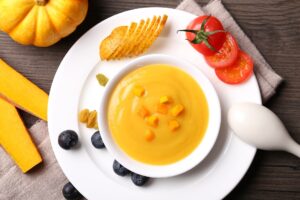 Simple Sugar-Free Flapjacks 
A great way to get babies to eat more fruits is with sugar-free flapjacks or oat bars. Here are some healthy baby food recipes for 1 year old that are sugar free.
I've wanted to try more baby-friendly recipes for months, and I am so glad I finally got around to it! The little man in my care is 13 months old, so we're a little past weaning time. Despite only having 5 teeth, he still has a lot of difficulties eating some foods.
Furthermore, I have been trying to keep his sugar and salt intake as low as possible, which means I am cooking a lot of food just for him. This Sugar-Free Flapjack or Oat Bar recipe is my first one specifically for babies. 
Up until a couple of months ago, my son wasn't much of an eater. Getting him to eat more than a couple of bites at a time used to be a mission, but lately, he has become an eating machine.
He sometimes eats so much that I have difficulty thinking of varied and interesting snacks for him. I decided to make my own oat bars after seeing them in those oat bars boxes. They're handy, but they can get expensive for what is essentially a handful of oats, so I decided to make my own.
INGREDIENTS
Two cups of rolled oats.
1 tablespoon desiccated coconut
Microwave-melted coconut oil or butter 50g.
One and a half bananas
Three dates
4 tablespoons orange juice or apple juice
INSTRUCTIONS
Set the oven to 170 degrees Celsius and line an 8-inch x 8-inch baking dish with parchment paper.
Using a food processor, pulse the oats for a few seconds to break them down a little. Toss the oats with the desiccated coconut and transfer to a large bowl.
Melted coconut oil or butter, bananas, dates, and fruit juice should be blitzed together in a blender until a sticky paste is formed. On top of the oatmeal mixture, pour the peanut butter, and stir until well combined.
The mixture should be spooned into the dish and compacted with the back of a spoon.
Put the mixture in the oven and bake for 20 to 25 minutes, until the edges are starting to brown.
Remove the parchment paper from the dish and let it cool before cutting it into 8 large or 16 small pieces
Why Too Much Sugar is Bad for the Child
Researchers found that excessive sugar consumption at a young age was related to a higher body mass index (BMI) as the years went by. It is important to promote healthy eating habits in early childhood despite the short-term effects of occasional sweet consumption. Try out these baby food recipes for 1 year old and share your experience in the comment section.
Parenting in an overly restrictive manner can backfire and result in children rebelling. As long as kids get their nutrition from other food throughout the day and learn to appreciate healthy eating, it's alright for them to enjoy treats once in a while.