/ Tasty Millet Baby Food Recipes For Babies And Toddlers
Tasty Millet Baby Food Recipes For Babies And Toddlers
Millet: Baby Food Recipes 
It is possible to prepare porridge with millet for babies by following these baby food recipes. In fact, ragi porridge is one of the first foods that is eaten by babies in India. Millets can be used for dishes other than porridge, such as idlis, dosas, pancakes, salads, upma, stews, soups, and bhakris.
In order to reintroduce millets into our homes, we must begin using them in simple recipes gradually. Millets can be easily substituted for rice in various dishes including lemon rice, kheer, payasam, khichdi, pilaf, or just plain rice. Despite being high in dietary fibre and low in glycaemic index, millet leaves one feeling full for a longer period of time. 
When compared to wheat, fewer millets are needed to get the same amount of energy. Gluten (a protein in wheat that some people have difficulty digesting) is not found in millet. Despite being alkaline in nature, millet is easy to digest and is soothing to the stomach. There is no starch in millets, so it releases energy slowly for increased stamina during periods of prolonged physical activity. Here are some simple millet baby food recipes that you could try at home;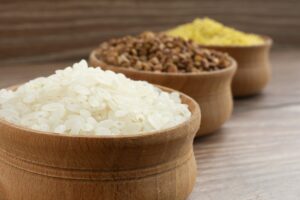 Millet Baby Food Recipes  In India
Whether you are using traditional weaning or baby-led weaning, this millet recipe will work well. The texture needs to be thick and lumpy so the baby can pick up in little lumps with his pincer grasp. Adding banana to millet helps relieve constipation and adds natural sweetness.
Ingredients:
One cup jawar (sorghum flour)
Two tablespoons of ghee
One ripe banana
1 tablespoon cardamom powder
Half a cup of water
Procedure:
Grease a pan with ghee and roast the jowar flour until golden brown.
Incorporate 1,500 mL of water and 1/2 cup mashed bananas. To prevent it from sticking to the vessel, mix the porridge intermittently.
The flavor of cardamom powder is added.
Let this cook until it becomes gloopy. Let it cool and serve.
Recipe For Finger Foods For Toddlers: Millet Paniyaram And Coconut Sesame Chutney
Beetroot dosa mix, which includes oats, finger millet, black gram, red rice, semolina, and beetroot, makes paniyarams a delicious and iron-rich snack. Healthy fats and calcium are provided by the coconut sesame seed chutney. Pack panayaram in school lunch boxes for children or carry it with you while traveling.
Ingredients For Paniyaram:
Beetroot dosa mix, 1 packet
Take one cup of water
Chop coconut and sesame for Coconut Sesame Chutney
Coconut grated in a 1/2 cup serving
2 to 3 tablespoons roasted sesame seeds
Half a tablespoon of tamarind
Garlic cloves 2
Water, 1/4 cup
Procedure:
Pour 1 cup of water into 1 packet of beetroot dosa. Mix well until there are no lumps and the batter is even. Rest the batter for 15-20 minutes before using it.
A paniyaram pan is necessary for making paniyaram. Paniyarams are soft on the inside and crisp on the outside, like idlis.
Chutney can be made in the consistency of your choice by blending all the ingredients in a mixer. Add water as necessary to reach the desired consistency.
Paniyaram is best served with coconut sesame chutney.
To sum it up,
Millets should be included in a balanced diet along with legumes, lentils, grains, nuts, and seeds. Pay close attention to the ingredients in baby food recipes. Get quality millet health mix from Yummy Valley. 
Millets can boost the intake of nutrients in kids when they are included in a well-balanced diet. By satisfying most of a growing child's protein and iron needs, they are an excellent healthy addition to a child's diet.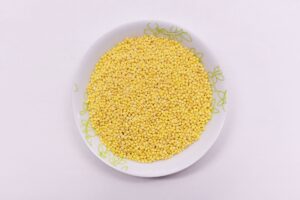 Baby-Friendly: Millet Pongal
We've got to keep this recipe handy since it's a great way to introduce our traditional grains and food practices to the next generation! Introducing millets to babies as early as possible is a great idea before they get used to tastier unhealthy food varieties.
Among Millet's many nutrients is its high fiber content. These baby food recipes are packed with nutrient-rich ingredients.
Whenever we have it for breakfast, I make this baby-friendly recipe and my one year old daughter absolutely adores it.
You should remove all hard substances (like pepper pods, ginger, curry leaves) and serve only plain Pongal to babies.
Ingredients
200 gram tumbler Millet.
Yellow moong dhal 100 grams.
Black whole pepper:10
One teaspoon cumin seeds
Grated Ginger, half a teaspoon
Salt to taste 
Ghee, One tablespoon
Ten Cashew nuts –
One-fourth teaspoon of black pepper powder
One-fourth teaspoon cumin powder
Slightly crushed 6/7 curry leaves Whole
Ghee, 4 tablespoons
Steps
Roast the Moong dhal in 1 tsp ghee until it produces a mild aroma in the pressure cooker. 
In a pressure cooker, add peppers, cumin seeds, and grated ginger along with the millet that has been thoroughly rinsed in water.
To this mixture, add the water and salt mentioned above. 
When the pressure cooker has sounded five times, open it and stir well. 
After cooking for five whistles, let it cool.
To make the cashew nut ghee, heat the ghee and roast the nuts until golden brown. 
Pour the hot ghee with Curry leaves, cumin powder, and pepper powder for additional taste.
Pour this mixture over the cooked Pongal and mix well. 
Now you have a creamier version of millet Pongal or other baby food recipes!
Try Out Millet Baby Food Recipes
Millet is a highly nutritious, non-glutinous, and non-acidic food. Its soothing, non-acidic properties make it easy to digest. As well as being the least allergenic and most digestible of all grains, they are also considered the healthiest. Because millets are high in insoluble fiber, they release small amounts of glucose over a longer period of time, reducing the risk of diabetes. I hope you enjoy these baby food recipes. If so, please share your review in the comment section.
In particular, millet contains minerals such as iron, magnesium, phosphorus, and potassium. Moreover, it contains several B vitamins such as niacin, B6, and folic acid. Ragi's polyphenol and dietary fiber content are responsible for some of its health benefits. Among all plant foods, it has the highest calcium content. Millet is one of the best natural sources of calcium for growing children because it contains calcium along with Vitamin D, which strengthens the bones. This article is hoped to have been useful to you.