/ 9 Easy And Healthy Millet Recipes For Babies
9 Easy And Healthy Millet Recipes For Babies
Millet Baby Food Recipes
Nutritionally dense grains, millet is packed with vitamins and minerals. Easier to digest and full of vitamins, millet is bursting with nutrition. Try these easy millet recipes for babies to introduce your child to this grain. You can make some simple millet recipes at home that your child will love. Baby food feeding can become a wonderful experience with these millet baby food recipes.
Among the oldest foods consumed by man are millet grains, which are hardy grains. They contain a substantial amount of nutrition. By replacing rice and wheat with millet, regular Indian dishes can be healthier.
Millet is also easy to digest, which makes it a good addition to a baby's diet. When your baby is six to eight months old, you can introduce millets to his or her diet.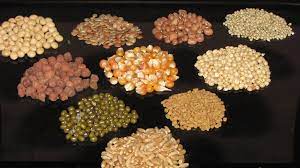 Baby Cereal With Toasted Millet
You will need:
1 tbsp vegetable oil, or more nutritious olive oil.
A cup of whole-grain millet
Two cups boiling water
Follow these steps:
First step: Oil should be heated in a large pan. Pour in 1 cup millet, and sauté. As the millet toasts and turns brown, stir it until it becomes fragrant.
Second step: 2 cups of boiling water should be added. The pan should be covered and the liquid absorbed for 30 minutes. Allow it to stand for five minutes, and then fluff it up.
Third step: If your baby is age-appropriate, you can add spices like cinnamon, ginger, and vanilla, as well as fruits, vegetables, and/or other foods.
Apples, Carrots, and Millet Stew
You will need:
Three cups diced carrots
Half a cup millet, uncooked
One and a half cups of water
You can use water or apple juice if you wish.
Half a cup diced apples
Follow these steps:
First step: To make Millet Apple Juice, combine the carrots, millet, 1 1/2 cups water, and diced apples in a medium saucepan.
Second step: Put the mixture on very low heat and bring to a boil. Stir your millet stew frequently for approximately 20 minutes.
Veggie Salad With Millet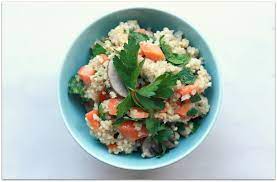 You will need:
Millet cooked soft, not pureed.
Carrots, cooked soft and diced
Peas cooked to your desired softness, mashed if needed
Chicken or beef shredded into small pieces or diced, cooked soft
Follow these steps:
First step: Pour all ingredients into a bowl and toss to combine
Second step: You can serve these as finger food meals or snacks.
Millet Health Mix Simple porridge
You will need:
One cup of pearl millet (200 g)
Salt according to taste
Follow these steps:
Get rid of the stones by cleaning the millet. Soak the millet for 30 minutes in water. Allow it to drain and dry in the shade.
Mix the powder in a mixer until it breaks down into coarse particles.
The coarse particles should be removed by sieving.
Put the mixture in a blender and add a little more powder.
Water should be boiled one liter at a time.
Stir constantly to avoid lumps as you add the millet powder to the water.
Don't forget the salt. Let it simmer until it is cooked.
Serve with buttermilk once cooled.
You can reduce the preparation time and steps by using Millet health mix powder from Yummy Valley. Baby food feeding can be made great with Millet health mix powder.
Millet & Corn Dosa
You will need:
One cup of corn
A cup of millet 
A cup of black gram dal
Add salt to taste
Fenugreek seeds, 1 teaspoon
Follow these Steps
Put the corn and millet into separate soaking pots. In the meantime, soak the fenugreek seeds and urad dal separately.
Put all these ingredients into a food processor with the salt until you reach a dosa batter consistency.
Ferment the ingredients for six hours.
Prepare soft dosas.
Little Millet Biryani
If you are a fan of biryani, then this recipe can help you introduce flavor to your kids. Baby food feeding can be made great by introducing new tastes.
You will need:
One cup little millet, cleaned
Two tablespoons of ghee
1 teaspoon ginger-garlic paste
Chop 1 tbsp mint leaves
Three cardamom pods
One-fourth tsp powdered cinnamon
1/4 teaspoon fennel seeds, powdered
A pinch of turmeric powder
1 teaspoon chilli powder
Chopped carrots, beans, drumsticks, green peas
Finely chopped 1/4 cup onion
A cup of thick curd
Taste for salt
Follow these Steps
Ghee should be heated in a pan. Fennel powder, cinnamon, and cardamom should be roasted for two minutes.
Ginger-garlic paste, mint, onion, and tomato are added to the pan and fried for 3 minutes.
In a large bowl, combine the chopped vegetables and curd.
Check vegetables after 5 minutes to see if they are done.
Then add the millet. Cook with 2 cups of water until it is done.
With papad, serve warm.
Adai With Spicy Millet
You will need:
Approximately 150 grams of foxtail millet
Kodo millet, 150 grams
150 grams of barnyard millet
150 grams of black gram dal
2 teaspoons cumin
Two red chilies
1 teaspoon peppercorns
An inch of ginger
Chop 2 tablespoons of curry leaves
Two pinches of asafoetida
Add salt to taste
Follow these Steps
The millets, black gram, cumin, black pepper, and chilies must be dry-roasted.
Make a thick batter by grinding together ginger and a little water.
Ensure the curry leaves and asafoetida are well incorporated before adding salt.
Prepare a thick Tawa by smearing it with oil.
Spread a ladleful of the batter in the shape of a dosa so that it is just a little thicker than a dosa.
Cook on medium heat.
Cook until it is done by flipping over, drizzling a little oil around it, and cooking.
It can be served hot with chutney or a piece of jaggery.
Spicy Paniyaram with Foxtail Millet
There is no doubt that baby food feeding could use some spices, and millet is incredibly healthy for babies.
You will need:
A cup of Foxtail millet
A cup of boiled (idli) rice
A cup of black gram dal
1 teaspoon Fenugreek seeds
Cut up one onion finely
Finely chopped green chili
1 teaspoon mustard seeds
1 teaspoon cumin
One tablespoon Bengal gram dal
Chopped coriander, 1 tsp
A teaspoon of chopped curry leaves
Cooking with ghee
Follow these Steps
Wash the millet, rice, fenugreek seeds, and black gram in water. Let them soak together for three hours.
Using a mixer or grinder, grind the ingredients to the consistency of a dosa batter.
Then add salt and let it ferment for eight hours.
The remainder of the ingredients should be added and mixed well.
Put a teaspoon of oil into each paniyaram mold and heat it.
Pour a tbsp of the batter into each mold and allow it to cook.
Carefully flip it over and let it cook until brown spots appear.
Put them on a plate.
You can serve this dish with coconut chutney.
Sweet Pongal Made With Foxtail Millet
You will need:
200 grams of foxtail millet
250 grams of jaggery
50 grams of ghee
Five broken cashew nuts
15 raisins
One teaspoon cardamom powder
Follow these Steps
Millet should be roasted in a pan with a little ghee until golden brown.
Set aside roasted cashews and raisins with a little ghee.
In a small saucepan, heat four teaspoons of water and jaggery until it dissolves.
Remove dirt by straining.
Back on the stove, heat the jaggery until it thickens and forms a syrup.
Add 400 ml of hot water to the roasted millet and heat.
Boil it for a few minutes.
Little by little, add ghee.
Jaggery syrup should be added halfway through cooking.
Cooking will cause the mixture to come off the sides of the pan.
Incorporate the cashews, raisins, and cardamom powder now.
You can now enjoy your millet sweet Pongal.
So your child grows up to be healthy and learns how valuable these traditional grains are.
Why Millet Health Mix For Babies
For the health and growth of a child, it is imperative that he/she be fed a well-balanced diet. Pay attention to the quality and ingredients of baby food rather than quantity. The millet health mix should be part of the baby's diet and baby food feeding to ensure their diet is well balanced. Using millet health mix powder in baby food recipes makes them tasty and easy to prepare. It is easy to digest and doesn't trigger an allergic reaction in most cases. When you are not sure whether a new baby food is safe for your baby, consult a pediatrician. 
 Image source: flavourstreat.com, Unsplash
Reference: Millet recipes