/ 7 Tips I Use To Make My Baby Eat Healthy
7 Tips I Use To Make My Baby Eat Healthy
7 Tips I Use To Make My Baby Eat Healthy
Most of the little ones find it boring to eat something healthy and they are more excited to munch some fries, relish some chocolates or candies. It is a herculean task to make them fall in love with healthful food. With some tricks and tips, this hurdle of making the tiny tots eat healthily can triumph over. 
Convincing your baby to eat healthily
First of all, make them convinced and relaxed with their pretty platter. As a new mom, at first, I found it difficult to cope up with the tiny tantrums thrown by my baby over food. However, now I have almost excelled myself in the task of feeding my cutie pie. I always encourage my baby to learn more tastes and flavours, as I want my kid to be a daring diner and not a picky diner. 
Be patient with your kids 
The very first thing I have done to make my little one love food as much as I do was to develop a loving relationship with food. And I recommend this to every parent out there to make their babies embrace healthy eating habits. We should always set our mind to appreciate the liking and disliking of children towards food and we should understand that it takes time to foster healthy eating habits in kids. As they are just learning to taste and enjoy their food, they should not be turned down by judging them as a bad eater. 
Every kid is different and possesses a different rate of learning and parents should never be adamant to make their kid learn the eating habits at the same pace as another child. Parents should provide anything and everything that is healthful to their children. Do not make them get bored with the same flavours or foods and let them explore and enjoy the different savouries available in the world. 
Mix it up with tips and tricks 
Just like us, kids prefer to have the same food every day; they crave varieties and changes. Not only the flavour but also the texture of the food item should be made different concerning their interest and age. They should be served with both smashed and diced vegetables, fruits, and other food items. Their healthy diet should be enriched with both liquids and solids. They should be allowed to gulp and chew their savouries from their tumbler and plate respectively. 
Another trick to make the tot relish his or her food is to prepare their food in different shapes, which can be of their favourite cartoon characters, and animals. With a cookie-cutter, every dad and mom can go on with their shape experiment. It is so lovely to add a smiley on top of every food that is served to the baby and make the little one smile at their food, which is smiling back at them. 
Become a role model to your kid 
Mealtime with a toddler will be a stressful time for parents and it is something that cannot be helped. Howbeit, parents should take extra care not to make their kids anxious or nervous, which will undeniably hold back their appetite. Elders should set themselves as role models for younger ones at the dining table by not fiddling and meddling with others especially kids who share the table with them and they should relish their food with a full heart. This will for sure make the kids focus on their own plate and enjoy their food. By making a better environment for dining, the children will eventually fall in love with food. Children love snacks and candies and they are never health-conscious, every parent should consider this attitude of their kids and should respect it. 
Parents should replace their unhealthful choices with much healthier and tastier choices and should be mindful of the nutrition intake of their kids. Accept the fact the kids are messy and encourage them to have their food themselves. They may play in between eating, they may convert the dining room into a total muddle, whatever they do should be fine with the parents, as they are experiencing their food and should never be dispirited. 
The Fruit and Vegetable bandwagon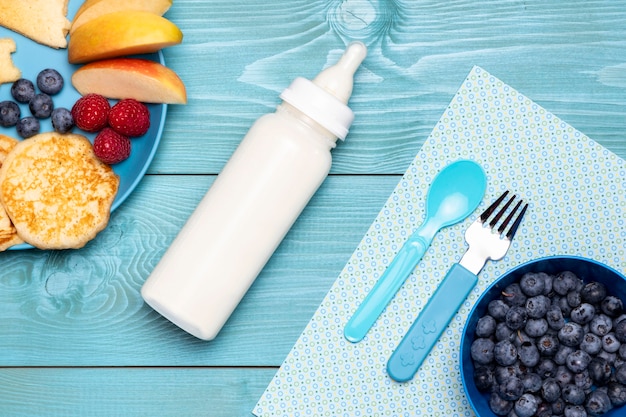 For cultivating a better relationship towards fruits and vegetables, children should be offered at least one portion of fruit and vegetable per day. If they are reluctant to have their vegetables or fruits, then it is better not to compel him or them to have the whole thing at a single go and should offer them more than a few servings each day. Try to feed them only when need food or when they are hungry and do not set up a proper dining timetable for them. 
Healthy Servings 
Children usually possess a tendency to accept food, when they are starving, so parents should take up this opportunity to feed them with the most healthful serving. And it is better to prepare something vegetarian as the starter or the main course that is offered first. Click here if you want to learn the must-have nutritional guidebook from one mom for every mom!
Desserts that wow them 
After finishing their whole meal gracefully, it is better to surprise them with a healthy dessert that can be fruit salad, a piece of homemade cake, or something just as delicious. One of the most important things that every parent should keep in mind is not making any assumptions regarding the expressions made by the little one.  
Parenting with care 
Being a parent is not at all an easy task and there are no well-written rules and regulations for doing extremely well in the field of parenting. Parents are born with the little one and they will grow and learn together with them, so it is nothing short of a rollercoaster ride. Although, it is a challenging job, still parenting is the most fulfilling and rewarding feeling in the world. Developing a healthier eating habit in their kid happens to be the most daunting of all tasks in parenting, but this can be trounced with the above-mentioned tricks and tips.