/ 5 Kinds of Upma for Babies
5 Kinds of Upma for Babies
Upma For Babies
Upma is a power-packed food. It is very healthy for babies – simple to prepare, easy to consume and easier to digest. We all know the goodies of upma, don't we? How about exploring this awesome dish and learn some quick and different upma recipes. So, here are 5 healthy upma recipes for your babies, with a twist!
Mix vegetable suji upma: The mix vegetable suji upma is one of the most comforting baby food and is also a great source of nutrition. It's easy to prepare and is surely a power packed meal for your kid. 
Steps to prepare mix vegetable suji upma or suji khichdi: Roast suji/rava with a little ghee till it releases a nice aroma. Keep it aside. Now chop onion, tomatoes and other seasonal vegetables. Also grate a small piece of ginger. Pressure cook the vegetables until soft. Now heat a few drops of ghee on a cooking pan and add a few crushed cumin seeds. Add onion and tomato and saute till the onion is golden brown and the tomatoes are soft. Add the boiled vegetables, a pinch of turmeric, sugar and salt. Cook on medium heat and mix everything well. Also, in the meanwhile, boil water on a pan and put the roasted suji/rawa and stir it continuously. Keep stirring and mixing until the suji absorbs the water. Now add the veggies and some more water. Mix well and cook for another 5 – 7 minutes. You might want to mix some more water to get a creamy textured upma. Your baby's upma is ready to be served. Make sure to cool it off before feeding the upma to your baby.
Quinoa vegetable upma: The quinoa vegetable upma is no doubt one of the healthiest form of upma for babies. Not to mention it has gained its popularity as a baby food recently, thanks to the social media, now we have so much insight about quinoa's benefits to health at our finger tips. 
Easy recipe for quinoa vegetable upma: Take half (1/2) cup quinoa and half (1/2) cup urad dal in a bowl. Wash and rinse very well, then drain and soak them for 30 minutes.  Now heat a small amount of ghee on a pan, then add mustard seeds, cumin seeds and curry leaves. After that add 1 chopped onion and fry on medium heat. Add some veggies like peas, carrot, corn/ sweet corn, beans etc. (It is best to steam or boil the chopped vegetables beforehand). Finally add the soaked quinoa and some water and mix well. Cover and cook for 15 minutes and a yummy healthy treat is ready for your baby. 
Sweet corn and pea's upma: Sweet corn and peas, both hold bundle of nutrition values, especially protein, vitamin and fiber. Also, having high fiber content, this upma recipe is great for your kid's stomach and guts. It is also considered as one of the tastiest baby food.
How to make sweet corn and pea upma?
Start by steaming the peas and sweet corn (both peeled). Avoid using frozen peas or corn while cooking for your infants and/or toddlers. Once steamed, crush both in a mixing bowl and keep aside. Now in another bowl, soak ½ small cup of rava (or suji, whichever ingredient is available) in warm water. Heat a small amount of ghee on a pan, throw in some cumin seeds, mustard seeds and curry leaves. Saute for a couple of minutes on medium-high flame. Add the crushed sweet corn and green peas in the oil, cook well on medium-low flame, until properly cooked and oil starts leaving the mixture. Also add 2 small pinches of salt and a spoon of sugar. Now drain water from the soaked rawa and add the rawa to the pan. Add some water/milk and mix everything well. Cook on low flame for 7 – 10 minutes. Don't forget to taste this delicious pea-corn upma yourself before serving the savory treat to your children.
Oats and apple upma: The "one apple a day keeps the doctor away" stands true till date for all alike – infants/babies, toddlers, teenagers and adults. And we know it is usually a struggle to feed an apple every day, especially to babies and even grown up kids. So here is an easy and delicious solution – the oats and apple upma. This is one dish full of nutritional values and also is a nice and fulfilling meal.
Here is an easy recipe for oats and apple upma. Try it today!
The oats apple upma is special because you can feed it to your baby anytime during the day or night. It's also a very simple recipe to make – and no doubt very healthy for your baby. 
Take a small/medium sized apple and half cup oats. Skin and chop the apple in small pieces and wash properly. Put it on the steamer. Use the apple peels to boil with the water which is being used to steam the apple. We will use it later to cook the upma to ensure we are not giving away any nutrition which will prove beneficial for babies (make sure you are using drinking water to steam the apple). While the apple is steaming, wash 1/2 small cup of oats and soak it in warm water. Now heat a small amount of ghee on a pan and add mustard seeds and curry leaves. Once the mustard seeds starts to crackle, add some sugar and put in the steamed apple and start frying over high frame for a couple of minutes. When the apple pieces are nice caramelized, put in the soaked oats in the pan and start mixing well. Add two small pinches of salt. Now strain the apple skins from the steam water and add it to the mix. Cover and cook well for 15 minutes on low frame. If needed add some more water till you get a smooth creamy texture. Serve fresh. 
Carrot and broken wheat upma: This is another power packed meal for your baby. Being packed with fiber, it is especially good for children facing problem digesting their food, or regular stomach aches. 
Recipe for carrot and broken wheat upma.
You can cook this upma two ways – sweet or savory – as per your kid's preferences. However, it is just a matter of adding one ingredient – yes it's that simple!
Take a couple of fresh, new born carrots. These are very healthy for babies and also easy to digest. Wash the carrots, skin them with the back of your knife and chop them into small pieces. Pressure cook them in a small amount of water. Once cooked, keep the carrots aside in a bowl. Use the same water to pressure cook 1 small cup of broken wheat. Cook until 3 – 4 whistles. In a pan, heat sunflower oil, or ghee (avoid using dalda). Add mustard seeds, cumin seeds, curry leaves, and one finely chopped tomato. Mix well on high frame, but don't let the tomato get mushy. Now add the carrots and 2 tea spoons of sugar and saute for a minute. Then add the pressure cooked broken wheat to the pan. Add some more water and mix everything. Cook on low flame for 5 minutes. And your sweet carrot broken wheat upma is ready to serve.
In case you prefer a savory twist, add some salt after adding the sugar. Then put in the broken wheat and mix well till cooked properly. You can even garnish it with boiled peas and some coriander leaves.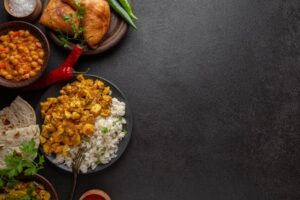 Want to know more delicious Upma recipes for your baby? Click here!
Do you know any mind-blowing recipes for babies and growing children? Don't hesitate to share it with us.