/ 1 YEAR OLD BABY FOOD IDEAS
1 YEAR OLD BABY FOOD IDEAS
BABY FOOD IDEAS FOR 1 YEAR OLD
Try out 1 year old baby food – Now that he or she is a year old, you have to adjust the food for his/her health. We hope it has been a wonderful adventure for you and your baby.  The first thing that happened was that your child smiled, next he/she walked, and then he/she started walking independently. It's at this point that your baby is ready to try different foods.
WHICH FOODS SHOULD I FEED MY 12-18 MONTHS OLD?
Spices are not necessary for all the meals you cook for your family. You should always provide your family with a wide range of food options. As a result of the child's few front teeth, some foods may not be accessible to them at this point. In the case of hard foods (1/2 inch or smaller), even if they are easy to chew, it is still a good idea to mash/cut them up.
You can begin giving your baby cow's milk once she turns one. Your child will easily reach calcium in cow's milk, and it is also a great source of vitamins and proteins. Moreover, you and your baby are allowed to continue nursing as long as you are comfortable.
HOW TO INTRODUCE COW'S MILK TO MY BABY?
For toddlers, whole milk is best until the age of three, since fats that are consumed in their diet are crucial for their growth and development. The amount of milk in a cup of cow's milk should be around 200 ml to 300 ml. You shouldn't give your toddler more milk than is recommended, as that may limit his or her appetite. Furthermore, it is not recommended to dilute the milk with water as this reduces its nutritional value.
Adding natural flavors to milk or adding milk to the porridge, kheer or desserts can be an option if your baby does not like the plain milk. You can also add curd, yogurt, paneer, or cheese in case your baby does not like the plain milk. You can include various dairy products in a 1 year old baby food plan.
DOES MY 12 TO 18-MONTH-OLD NEED TO FEED HERSELF?
Your toddler might already be able to feed herself independently, although she may not be able to do it perfectly.  Generally, she will be able to cup-hold and drink from it without assistance, and she may be interested in eating with a spoon or finger. Foods can be prepared in such a way that she can eat them with her fingers. 
When your toddler is ready to self-feed, encourage him or her to do so, and eat together as a family. Children can develop healthy eating habits by eating together with their families. These 1 year old baby food can be a great start to a new experience. 
WHAT ARE THE FINGER FOODS CAN I GIVE TO MY TODDLER?
Children of this age like finger foods such as chunks of soft-cooked vegetables, fruits, cheese, toasted paneer, homemade cookies and crackers, boiled eggs, which are easy to prepare and they can feed themselves.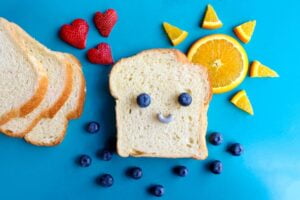 WHAT CHANGES CAN I EXPECT IN MY ONE-YEAR-OLD BABY'S APPETITE?
Your baby's growth rate naturally slows down after delivery, and as a result, his appetite may decline as well. Also, you might discover that your toddler is more intrigued by exploring the world around him than eating. Every day, your child may eat a small amount to a large amount of food, depending on his or her appetite. There is no need to worry about your child overeating; they will know when they are hungry and won't overindulge.
HOW TO ENCOURAGE MY FUSSY EATING TODDLER?
The following tips will help you deal with a fussy eater
Your baby should never be forced to finish the meal. Let them enjoy the meal according to their schedule. You can try again later if your baby refuses food.
By offering finger foods, you can encourage self-feeding.
Even if the food is more of a mess and more of a play, let your baby experience it.
Small, nutritious meals are available in a variety of forms.
Sugary foods should be avoided as much as possible, as should be processed and junk foods.
Set a good example for your child in terms of food habits.
HOW MANY MEALS SHOULD A BABY GET FOR 12-18 MONTHS
You can feed a baby between 12 and 18 months three meals, two snacks, and cow's milk. Whether or not their baby needs to nurse, breastfeeding moms can carry on with their feeding. You should choose the meals and snacks your child will eat according to his or her preferences. Ensure that your child receives food on a regular basis. You can try again a little later if your child refuses food.
HOW MUCH QUANTITY FOR 12-18-MONTHS BABIES PER DAY? 
As outlined below, your child should have food from each of the four primary food groups. Baby appetites differ from one another, and most change day to day, so you should follow your baby's hunger when deciding how much food to give. During each meal and snack, you should include a serving from each size range.
Whole Grains, Cereal & Carbohydrates –  1/4 cup to 1/2 cup
Fruits & Vegetables -1/4 cup to 1/2 cup
Milk & Dairy Products – 1 cup
Meat/Protein/Meat Alternatives – 1/4 cup
SAMPLE INDIAN FOOD DIET PLAN FOR 12-18 MONTHS OLD BABY
A variety of foods with adequate nutrition is included in the table below to help ensure your toddler's diet is fulfilling.
By using these options, you can accommodate your baby's preferences, your convenience, and availability. Please note that the chart does not need to strictly adhere to the schedule given here.
Ensure that your child doesn't suffer an allergic reaction by removing any ingredients in the recipe before preparing it. Consider these factors when creating a 1 year old baby food plan.
The recipes below use spices that are added when they are family recipes. Adding more or less spices will depend on your baby's tolerance.
Breastfeeding mothers should feed their babies when they need them, regardless of schedule.
NOTES:
When adding new foods to your baby, you should never introduce more than one food at a time.
Be sure to watch for allergy symptoms when your baby is introduced to new food and stop feeding your baby if you see any.
The following chart shows which foods can be included in a baby's diet according to their age. The information provided should not be considered medical advice.
If you are introducing a new food, check with your pediatrician first.
At around the time of their first birthday, your infant's motor and cognitive abilities will expand. They will also require more energy because they require increased amounts of nutrients. Good 1 year old baby food should be a well-balanced diet for the babies.
Among items that toddlers can eat are eggs, fruits, dal khichdi, idli with sambar, rice with vegetables, and dal khichdi. You can easily keep track of all the foods you give your child with a food chart, so you won't repeat the same thing and will know what nutrients they're getting.
Image Source: Photo by Sydney Troxell from Pexels
Reference: Food chronicles