Try this healthy Millet dosa recipe at home.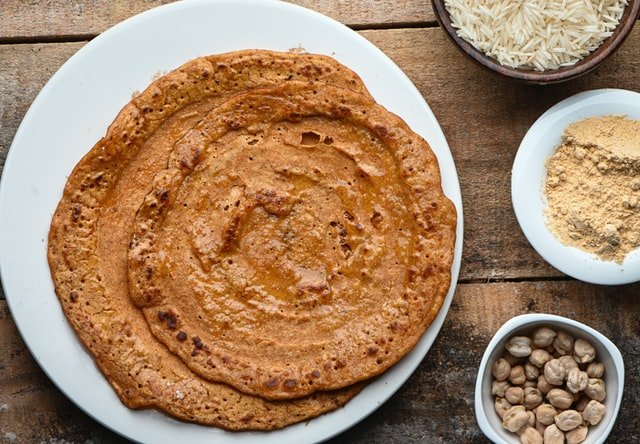 Millet dosa 
Join thousands of other parents on a quest to feed the family healthy, home-prepared meals. What do you look for in a recipe? The same things your kids do – easy, quick to make and tasty! That's why I created this millet recipe for babies. Cooking millets isn't straightforward, but it isn't rocket science either, so trust yourself; everything will go smoothly.
Moringa leaves, millet, fresh wheat, and Idli rice flour are required for making the Millet Moringa Dosa Mix. It is sugar-free and suitable for all ages. Make tasty and quick dosas with this recipe that includes moringa and millets.
Breakfast is one of the most important meals of the day, and it should be healthy. Check out this recipe for multigrain dosa if you're looking for a new breakfast recipe to serve your child with little fuss. It is effortless to make multigrain dosa for babies, and it is also very nutritious. We will give you a recipe for multigrain dosa that will teach you how to make delicious and crispy dosas for your child. You can nourish your baby with different millets by making multigrain dosas for him. Find out how to make multigrain dosa for your child by reading on.
Millet dosa recipe
A millet dosa is a type of dosa made with the grain millet, rather than rice or lentils. The millet dosa can be made sweet or savoury, depending upon the other ingredients used in making it. Millet dosa is healthy food and very easy to make. It is very popular in south India and can be enjoyed as breakfast or dinner.
Ingredients: 
Moringa leaves, Mixed millet flour, Idli rice flour, Urad dal flour, Cornflour, Wheat flour, Pepper, Cumin seeds and salt.
From this mix, one can easily make millet moringa dosa. Usually, it takes between 25 and 30 minutes to prepare.
Following are the steps:
Make sure you have the right amount of dosa mix

A sufficient amount of water should be added. Some curd can be added to make the dosa soft.

Make sure the batter is the consistency of Dosa batter

After 10-20 minutes, set them aside

Turn on the medium flame for the pan

The pan should be greased with some oil or ghee, and the batter should be spread evenly

Cook the dosa until golden brown
You can now enjoy a delicious and healthy Millet Dosa.
Instructions
Once or twice a week, serve this tasty and nutritious dosa to your child to ensure that he gets all the nutrients he needs for healthy growth. Making multigrain dosa is as easy as following the instructions below:
Mix all the flours in a large mixing bowl; add the salt, the coriander leaves, the curry leaves, and the cumin seeds.

Pour in the curd and gradually add water until the batter reaches the consistency of the dosa batter.

It would be best to let the batter rest for 30-40 minutes to allow the batter to ferment.

Pour a ladle of batter onto a non-stick dosa Tawa and swirl it a bit so that the batter spreads evenly.

The battery can be added in a little more on the Tawa if necessary.

In case of need, pour some oil over the edges.

Dosas are cooked by first cooking them on one side, then flipping them to cook on the other for a couple of minutes, and then serving hot. Transfer the food to a plate and serve warm once both sides are cooked.
Recipe Tips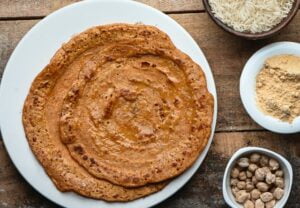 Here are some recipe tips you can use to make your homemade multigrain dosas delicious:
To enhance the taste of the dosas, finely chopped onions can be added to the batter.

A thin batter should be used to make crispy dosas.

Dosas can also be made crispier by adding some semolina flour.

This recipe can be made even healthier by adding millet flour.

Be sure to thoroughly mix the batter before making each dosa, as this batter tends to settle at the bottom.
Health benefits of millet dosa
The following are some of the health benefits of this simple multigrain dosa recipe :
Millet is a rich source of calcium and one of the non-dairy sources of calcium that helps kids' bones and teeth grow correctly.

In Millet, there are a lot of irons, which can prevent anemia.

Your baby's immune system and heart health are boosted by jowar, which contains essential vitamins and minerals.

This recipe uses multigrain flour rich in fibre, which helps prevent overeating and obesity amongst your munchkin.
Buying guide of millet dosa batter.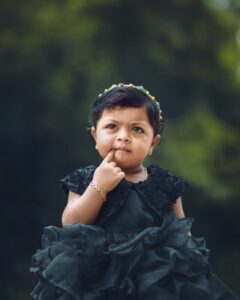 This delicious dosa for babies can be made healthier by using the best ingredients available on the market. After you've learned how to make this recipe, here are some pointers to note before you head to the store:
To ensure you are feeding your baby chemical-free foods, you should buy flours from an organic store.
Remember to check the expiry date of the flour on the package as well.
To taste better, choose fresh curd over sour curd while purchasing.
The best coriander leaves are bright green. Avoid those that have turned pale yellow.
Choosing small curry leaves is preferable to larger leaves because they are more flavorful.
In South India, dosas are a staple, and you can make them even healthier for your toddler by using multigrain flour. This recipe is better than instant dosa mixes and other quick fixes for breakfast or dinner for babies because it promotes better growth and development. Buy a health mix from Yummy Valley to be at ease.
Conclusion
You don't have to make plain dosas! You can make a variety of dosas made with millet, vegetables, and more with these healthy baby dosa recipes! Many health benefits are linked to millet, such as calcium, iron, potassium, zinc, magnesium, and B vitamins. These grains also contain protein and fibre. Millets are a significant source of vegetarian protein in traditional Indian recipes. Nowadays, cereal grains are considered a forgotten food due to the ease of cooking processed food products and the preparation time. It is essential to revive these traditional recipes if you think about the benefits of including millets in your diet. They are versatile grains that can be used in many ways. They are delicious in pilafs, soups, porridges, and salads.
Idli and dosa probably come into your mind when you think of healthy South Indian breakfast recipes for kids. While these foods are healthy and ideal for all ages, their simple nature allows them to have experimented in various ways!
If you add some dry fruits powder to the batter or mixed nuts powder, you can make any dosa healthier. Making life even easier, or being prepared for really hectic mornings, you can stock up on homemade dosa mixes that do not contain preservatives or added flavours.
Shop at Yummy Valley for healthy baby food.