/ Try these 5 recipes with Millet Bites Crunchy Coconut
Try these 5 recipes with Millet Bites Crunchy Coconut
Millet Porridge
Indians love millet porridge with coconut milk the most among all millet breakfast recipes. Simple but delicious, this coconut milk millet porridge dish is loved by everyone, especially kids. The garlic, fenugreek and coconut milk give it a great taste. For young children, it's considered a healthy breakfast, and it has health benefits for adults as well.
Apart from its health benefits, millets also add to the flavor of dishes by imparting a unique taste. Recent culinary innovations have used major millets like ragi, bajra and jowar to prepare hearty snacks and meals such as bajra tarts, khichdi, ragi dosas, etc. Millet is a nutritious, tasty and easy to prepare grain. We've compiled a collection of millet porridge recipes that can be prepared at home that are healthy, tasty and easy.
Ingredients For Preparing Millet Coconut Milk Porridge
Fresh coconut milk- 1big coconut
Samai or garage- 120 ml
Garlic -3 nos
Salt- as needed
Fenugreek-1/2 tbsp
Method: Millet Breakfast Recipes Indian Style
Soak fenugreek overnight.
Separate the first and second milk from the coconuts and set them aside.
Rice, water, soaked fenugreek, and garlic are added to a pan and cooked until soft.
As soon as the cooker cools down, mash the rice thoroughly.
Stir in the coconut milk and salt thoroughly without lumps.
Serve warm.
Try the Millet Health Mix from Yummy Valley. 
Notes: Millet Breakfast Recipes Indian 
The coconut milk should only be mixed before serving; if you mix it earlier, it could affect the flavor of the porridge.
If you want to make a single serving, place the mashed rice in a bowl with the coconut milk and mix. 
If you use fresh coconut milk for kids, you should use just that. Fresh coconut milk has a wide range of medicinal properties.
You can start by experimenting with plain rice for the first time.
Preparing millet porridge at home is a delicious breakfast option for the upcoming holiday season. Not only is it fast, easy, and light, but it is also highly nutritious. The following recipe for porridge includes foxtail millet, a source of other goodness. To make a delicious porridge made with foxtail millet, rich in iron, minerals, proteins and fibre, cashews, bananas, figs, amaranth and lotus seeds are combined with milk.
Coconut Millet Porridge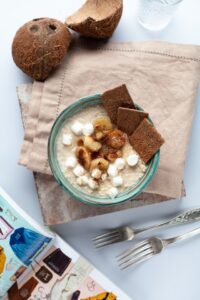 The millet is cooked to provide a hearty crunch and a warm, creamy texture in this friendly breakfast recipe.
The creamy texture of coconut milk, combined with the nutty addition of millet, makes this a winning breakfast combination.
The grainy appearance of millets makes some people think of it as a grain, but in reality, it is a seed. Minerals such as copper, phosphorus, manganese, and magnesium are abundant in this plant.
The millet kept its crunch even after cooking, which was quite satisfying. Retaining the crunch of nuts without the calories provides the same satisfaction as nuts. Regardless, a couple of almonds never hurt!
Ingredients Needed
1 cup millet
Two cans of coconut milk
1 tsp. vanilla
1 tsp. cinnamon
2 tbsp. maple syrup
dash of salt
How to Cook
It is straightforward to prepare this breakfast.
Stir constantly for 30 minutes while cooking millet in coconut milk.
Prepare the porridge by seasoning it. 
Sprinkle the syrup and spices on top. Serve hot.
As with rice or quinoa, you can prepare millet by boiling it and then fluffing it with a fork. Adding more liquid and stirring more often can make the product creamier.
Coconut Millet Porridge with Berry Compote
Makes two generous servings
Ingredients:
2 cups filtered water, 3/4 cup millet soaked overnight
1/2 cup dried unsweetened shredded coconut
2 1/2 cups filtered water
Half a cup unsweetened coconut milk, plus more to serve
Coconut sugar or maple syrup to serve
For the blackberry compote:
2 cups (10-oz package) frozen blackberries
Two tablespoons pure apple juice
1 1/2 teaspoons arrowroot powder
Directions: For the porridge: 
After rinsing the millet, drain and rinse again. Stir together dried coconut, cardamom, salt, water, and coconut milk in a pot. Cook over high heat until hot. During the last 10 minutes of cooking, stir every couple of minutes and cover the pot, reducing heat to low. During this time, the porridge should be thick and creamy. Recover the pot and set it aside until ready to serve. Remove the cardamom pods before serving.
For the compote: 
In a small pot, combine blackberries, cinnamon, and apple juice and boil over high heat. Once berries have begun to defrost and soften, cover the pot and simmer for 6-8 minutes. Using two teaspoons of water, dissolve the arrowroot and stir slowly into berries. Cook over medium heat, occasionally stirring, until mixture returns to a simmer and thickens. Take off the heat.
To serve, pour the porridge into a bowl and top with the compote and coconut milk. Sprinkle coconut sugar or sweetener of choice on top.
Mango-Coconut Rounds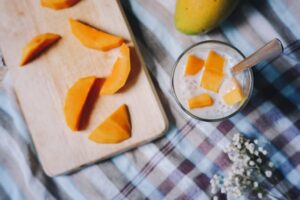 Mangos and coconut are lovely together, but you can also add a pinch of ground cardamom or fresh lime zest to jazz it up. The vanilla seeds will also be an excellent addition to the cake if you have a vanilla bean at hand. You may substitute raw cashews for almonds here by soaking them for four to six hours and draining them well.
Ingredients:
Dried mango, roughly chopped, should be unsweetened, unsulfured
1/2 cup whole raw almonds, soaked overnight in 1 cup water
3 cups unsweetened shredded dried coconut, divided
One tablespoon coconut flour
One teaspoon pure vanilla extract
Directions:
Cover dried mango with boiling water and let it sit for 20 minutes. After soaking for three to four minutes, the mango should be slightly softened yet still holding its shape. Rinse well under cool running water.
After peeling almonds, rinse and drain them; add 2 cups dried coconut, coconut flour, vanilla and salt to a food processor. Drained mango pieces are added to the food processor after pressing out any additional liquid. Using a food processor, blend the ingredients until the ball forms. Please place it in the refrigerator for at least an hour or until thoroughly chilled.
Bake the cookies for 20 minutes. Place 1/2 cup of remaining coconut on a baking sheet lined with parchment paper. The bread will be golden and fragrant during the last five to six minutes of roasting. Once the bread is cool enough to handle, remove the tray from the oven. Distribute the remainder of the coconut on a small plate.
A mixture of mango and coconut should be chilled before dividing into 1/2 cup portions. Each portion should be rolled into a log about an inch in diameter using clean, damp hands. Sprinkle with toasted or untoasted coconut flakes as desired. Put into the freezer for at least 30 minutes or until it hardens. The logs will keep in the fridge for up to 2 weeks if cut into eight rounds and layered in an airtight container.
Banana & Coconut Cookies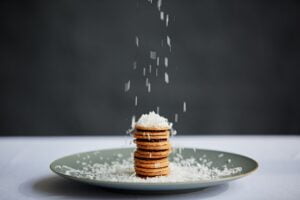 By following this recipe, you can make banana and coconut cookies that are delicious.
Ingredients for Banana & Coconut Cookies
A banana
¾ cups desiccated coconut
Method for making Banana & Coconut Cookies
Preheat the oven to 180 degrees Celsius (390 degrees Fahrenheit).
Lining a baking tray with parchment paper is an excellent way to prepare it.
Mashing the bananas with a fork will help make the dressing.
Combine the coconut with the mixture and mash well.
Coconut may need to be adjusted according to the size of the banana to achieve the desired consistency. When the banana is more enormous, the coconut should be added more.
Roll it into a giant dough ball and place it on a clean, flat surface.
Spread out the dough using your pas slowly until it is about 1cm thick.
Cookies can be cut out with your cutters.
You can pick them up with a spatula and arrange them carefully on the baking sheet. Ensure that they are evenly separated.
The edges should turn golden brown after about 12 minutes of baking.
You can make more cookies with smaller cutters. You can double the recipe if you want to make a large quantity.
Millet & Coconut For Taste and Nutrients.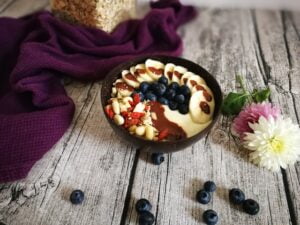 Infants can benefit from eating millet and coconuts as a healthy source of fat. Even if they still haven't learned to crawl, you should offer them a paste in a semi-solid form that they can swallow easily.
There's no doubt that this millet and banana recipe is a hit because it's incredibly filling and easy to digest. The baby will enjoy the food and milk when it is spiced well. Teething is a great time to spice up the food and dairy.
Coconut and millet have a lot of health benefits. These grains are better than rice, and they can be more easily digested. In addition to looking beautiful after I started giving my baby millet recipes, my daughter also stayed healthy and strong. Even though that isn't proof of the pudding, it should encourage us to habit these recipes. If you do, please share the recipe with friends and family.
Get the main ingredient at Yummy Valley.