/ Super Healthy Baby Food For Weight Gain
Super Healthy Baby Food For Weight Gain
Baby Food For Weight Gain
Baby and mother bond during feeding sessions, which is one of the most important times for bonding between the two. It is true not only when breastfeeding the baby, even if that's obvious, but also when he/she is given solid food or baby food for weight gain. It is important that both mother and baby enjoy this beautiful journey of introducing new foods to their babies. It is unfortunate that the joy often gets sullied by a big challenge – my baby is not gaining weight.
Getting to grips with breastfeeding is just the beginning. The biggest challenge new moms face comes after the baby is born. The problem can persist through toddlerhood and even into school. The baby's weight might not meet the mother's self-made expectations of what a baby should weigh. Or perhaps the family and friends who keep telling you that the baby is overweight are putting pressure on you. An honest concern may be expressed by the baby's doctor or even raised by a simple weigh-in. And many people want to know how to make their babies gain weight fast, or how to make their babies gain weight faster?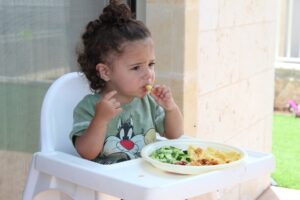 Is Your Baby Actually Underweight?
To all moms, I have one piece of advice – "Look at the Baby, Not the scales". It is absurd to worry about your baby's weight when he looks healthy, feeds well, and reaches all his milestones on time. Most of the time, the apparent lack of weight gain is nothing to worry about and simply a superfluous phenomenon. We should instead look at the big picture and not get caught up in daily or weekly weight gains.
In general, the child's weight should be considered over several months, and a slight decrease from one month to the next doesn't need to be addressed. Apart from that, the baby's weight is also determined by the genetic makeup of his parents. There is no hard and fast rule when it comes to children's weight. It is always within a range.
Children & Babies' Healthy Weight Gain Foods
1. Ragi
It is quite popular in South India as a traditional baby food called Ragi or finger millet. It is also one of the best foods for gaining weight for babies due to its high protein content and calcium content. In addition to dietary fiber, protein, and vitamins B1, B2, and B6, Ragi is also a good source of vitamins and the go-to baby food for weight gain.
Sprouted ragi powder that has been sprouted is doubly nutritious since the sprouting process increases the absorption of nutrients in the ragi. Getting 100% Organic Ragi delivered to your doorstep is a great option for new moms who don't have time to make this powder from scratch.
2. Health Mixes
The health mixes our grandmothers used were made at home; they sprouted, roasted, and ground a variety of organic ingredients. The commercial baby food mixes we compared to them were much less nutritive in both taste and health. Furthermore, the commercial baby food mixes help babies gain weight more effectively. Combining cereals, nuts, and pulses, these mixes can be adapted to make many different variations.
Another healthy baby food for weight gain is sprouted health mix where all the ingredients are sprouted and ground to powder form. Get Yummy Valley's homemade Millet Health Mix to avoid sprouting and grinding yourself. 
3. Kerala Banana
There is no need to look much further than Kerala bananas or green plantains when looking for healthy high-calorie foods. Furthermore, they are also rich in potassium, calcium, and phosphorus, as well as a dietary fiber to add bulk to the diet and aid digestion. The raw and ripe versions of these bananas are both quite versatile, and there are many Kerala banana recipes that you can prepare with them.
You can make raw Kerala Banana powder for your baby if you're concerned about giving them bananas during a cold.  The Raw Kerala Banana Powder can make life much easier for you if you can't find bananas or don't have time to prepare it.
4. Pear
Pears can also be introduced as one of a baby's first solid foods, along with apples. Besides promoting weight gain, pears also contain important nutrients like iron, Vitamins B6 and C, as well as fiber that keeps babies full.
When your baby is eight months old, you can give them pears in the form of puree; or, you can make apple pears with a cinnamon twist. Afterward, you can feed them as finger food or in pancakes.
5. Avocado
Avocados are not native to India, but they are quite popular in many Indian households today. Butter Fruit and Makhan Phal, also known as avocados, offer numerous health benefits, which is why nutrition experts around the world recommend them. Its creamy butter texture makes it palatable for babies and the healthy fats make it good for development and growth.  You can introduce avocado as a puree to your infant after six months, and after one year introduce avocado as juice and milkshakes.
6. Peas
When a baby crosses 6 months old, peas are one of the most nutritious vegetables he can start eating solids with. Besides being very high in fiber and thiamine, it is also high in magnesium, niacin, phosphorus, and vitamins A and B6. Include peas in baby food for weight gain.
7. Potato
Among the best first foods for babies is the potato. A soft texture, easy to mash, and the least allergenic of all foods make it the right choice for you. You should start with a small quantity because some infants may get upset stomachs due to gas.
Potato is rich in minerals, vitamins, and phytochemicals such as carotenoid compounds and natural phenols. An average medium potato contains about 26 grams of carbohydrate, making them one of the highest carbohydrate foods on earth.
8. Dry Fruits
Almonds, pistachios, figs, and cashews are among the energy-dense, non-fattening dry fruits. Powdered dry fruits can be added to almost every kind of food. Other forms include almond milk, dry fruit snack bars, and dry fruit laddus. It is possible to make the dry fruit powder at home with this recipe, or you can order the powder online.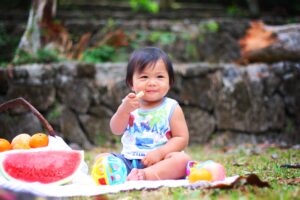 Note: Baby Food For Weight Gain
While you may know which foods to provide for your baby's healthy weight gain, it can still be difficult to figure out how to incorporate them into your baby's diet. That's especially true for babies under one who isn't sure whether certain foods are right for them. Before giving your baby new food, consult with your pediatrician.