/ Ragi Recipes for Babies and Kids
Ragi Recipes for Babies and Kids
Ragi Recipes for Babies
Ragi is almost certainly one of the main items Indian mothers feed their babies during the weaning stage. Make wonderful baby food with ragi recipes for babies. It is so popular with all generations of mothers that it is true for all generations. In addition, ragi is a popular ingredient in many regional delicacies, so many recipes can be adapted by substituting ragi.
Ragi's nutritional benefits
Among all millets and grains, it has the highest concentration of antioxidants and phenolics
Plant foods with the highest calcium and iron content
Food for growing children that are high in nutrients
Enhances bone density
Avoids excessive weight gain
Ensures healthy cholesterol and blood sugar levels
Proteins are the richest component, making it a great weaning food for babies
Fiber-rich and filling, it contains a lot of nutrients
It facilitates digestion.
Apple Ragi Porridge for Babies
For Indians, bland food is not acceptable. Instead, we prefer hot and spicy foods! Additionally, we're used to drinking sweet, milky tea and eating rich desserts. As we often make this type of food at home, we want our babies to become familiar with it too. So we ask, 'Can I give my baby sugar?' or 'Can I give my baby salt?'.
It is actually recommended that you introduce your baby to the true flavors in various foods as soon as possible. Babies do not dislike bland food by nature, and over time they will crave it. There is a small daily requirement for a baby, which is usually met by breastfeeding. Refined sugars are just as bad – babies don't need them and their bodies are better off with natural sugars, found in fruit. Learn more about giving your baby salt and sugar in this post.
The good news is that there are many alternatives to bland and boring food! Using pureed fruits is a great way to sweeten food, as in this recipe for apple ragi porridge, perfect for the winter. Rich in nutrition and taste, this recipe is sweetened with apples and textured with ragi!
A recipe for apple ragi porridge for babies
In India, we don't like bland food – we prefer our dishes spicy and flavorful 
Benefits of Apple for Babies
Constipation can be prevented by eating apples, which contain dietary fiber
It contains polyphenols, which form a protective layer over the stomach lining, protecting it from gastric issues. 
Moreover, apples are also known to have dental benefits for babies, which help them with erupting teeth
Apple Ragi Porridge for Babies
Ingredients
Ragi powder – 2 tablespoons or you can purchase our sprouted Ragi powder
Half a sweet apple
1 teaspoon ghee
Water as needed
Method
Prepare the apple by washing, peeling, and cutting it into small cubes.
Make a fine puree from the apple cubes. It is recommended to steam the apple first, then puree it for small babies.
Make sure there are no lumps in the ragi powder after mixing it with water.
Put the ragi mixture on low heat and allow it to simmer slowly.
Add the apple puree after the ragi is fully cooked and continue cooking for 2 minutes more.
Put the ghee in and turn off the flame. Serve at room temperature.
Kids who are bored of regular oatmeal can make this dish as a healthy breakfast – just grate some apple on top and add nuts of their choice, if you are sure they will not choke on them. 
Grated apples can be stirred into the porridge for older babies to increase texture and chewing. With this information, you know that it is possible to make tasty and nutritious porridges without using refined sugar!
Ragi Brownies
I like brownies a lot and I want to introduce them to my child. Try new ragi recipes for babies like ragi brownies to satisfy their sweet tooth. Ultimately, I needed to make it healthy for the baby, while also making it taste like brownies. Changes were made to the original recipes and some ingredients were swapped out for baby-friendly ingredients. This is the recipe I use to make Ragi Brownies.
Ingredients – 
Ragi Flour 1 cup
Sugar 1/2 cup
Baking Powder 1 teaspoon
Cocoa Powder 3 Tablespoons
Salt 1/2 teaspoon
Walnuts, chopped 1/2 cup (divided use)
Wet Ingredients – 
Bananas mashed 2 nos
Peanut Butter 3 Tablespoons
Oil 1/4 cup + 1 tablespoon
Half a cup of almond coconut milk or water can also be used.
Put Chop walnuts and chocolate chips for topping
Method –
Preheat the oven to 375 degrees Fahrenheit. Prepare a 7-inch square baking dish with grease and parchment paper.
Put the ragi flour, sugar, baking powder, cocoa powder, salt, and half of the walnuts in a mixing bowl and stir well. Stir well and set aside.
Add almond-coconut milk, peanut butter, and oil to bananas in another mixing bowl. Mix well until all the ingredients are combined.
Add the wet ingredients to the flour mixture. Mix thoroughly until no lumps remain.
Bake the brownies in the prepared pan, pouring the batter gently into the pan.
Chop walnuts and sprinkle chocolate chips over the top as needed.
When inserting a tester in the center of the brownie, it should come out clean. Bake for about 45 minutes.
Put the mix in the oven for 10 minutes, then take it out. Let it cool at room temperature for a few minutes.
Make sure to serve it with ice cream.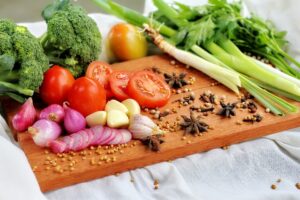 Ragi-coconut Choco Squares
You can satisfy the sweet tooth of your child by making ragi and chocolate squares. You can prepare this lactose-free recipe for kids.
Ingredients
One cup of sprouted ragi powder
A cup of freshly grated coconut chunks
Organic cacao powder, two teaspoons
A half-cup of jaggery
Powdered dates, half a cup
Coconut oil, half a cup
Method
Put a cup of water in the pan and bring it to a boil.
Coconut oil should be added in 2-3 drops.
Melt the jaggery in the mixture.
Mix together the grated coconut, cacao powder, and flour from ragi with the dry dates powder.
Stir the mixture constantly.
Slowly add coconut oil to the mixture to get it to come together.
The mixture should separate from the pan once it is cooked.
After the mixture has steamed, transfer it to a tray or plate that's been greased with a small amount of oil.
The mixture should be cut into squares and allowed to cool.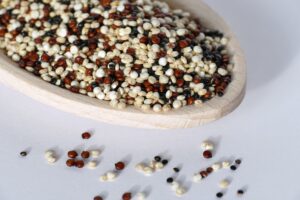 Why Ragi For Babies
Your growing child will benefit greatly from Ragi. These ragi recipes for babies contain a high amount of calcium. Bones and teeth become stronger when the body gets enough calcium and avoids bone-related diseases. If you do not have time to go through all the tedious steps of sprouting ragi at home, then it is best to buy sprouted ragi powder from Yummy Valley.