/ Ragi Banana Porridge: How to make it
Ragi Banana Porridge: How to make it
Ragi Porridge
Ragi porridge with mashed bananas satisfies your baby or toddler's desire for sweetness and savoury in every bite.
Banana and Ragi Porridge, also called Ragi Kanji or Ragi Porridge, consists of ragi porridge and mashed bananas. Ragi porridge is made with mashed bananas as a sweetener, making it simple to cook and delicious. 
The popular baby weaning food Ragi or Nachni is Southern India's most popular food. As explained earlier, Ragi is a storehouse of Iron and Calcium, which are crucial nutrients for a child's growth and development. Babies who consume Ragi have a full stomach and have a higher energy level for their play activities. 
Ragi and Mashed Banana Porridge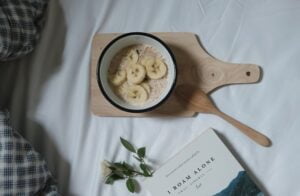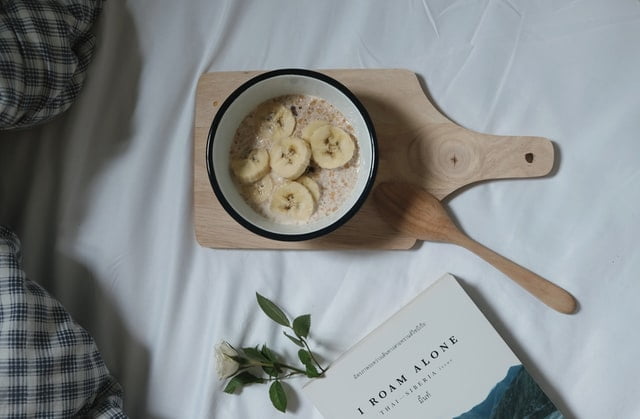 Baby/toddlers over six months can enjoy this delicious Ragi and Mashed Banana porridge. 
Here are some more porridge recipes you might like if you liked this Banana and Ragi porridge recipe
Ingredients
One tablespoon Ragi Flour (Finger Millet/ Nagli)
1 Ripe Banana, Small Banana 
A recipe for banana and ragi porridge for babies and toddlers
Firstly, we need to make sure we have homemade ragi powder before we can begin making the Banana And Ragi Porridge.
Place 1/4 cup water in a pan and heat to boiling. 
The heat should be reduced, and the ragi powder should be added. It would be best if you constantly stirred while adding the ragi powder. 
As Ragi generally thickens quickly, stir it continuously until slightly thick. 
At this point, turn off the heat. Let the water cool. 
Using a fork, mash a banana on a plate while waiting. Be careful not to have any lumps.
To the ragi porridge, add the banana mash and mix well. Ragi and banana porridge is ready for serving. 
Your babies and toddlers over the age of six months can enjoy this delicious porridge of Ragi and mashed banana.
Ragi/Finger Millet porridge is a classic homemade porridge that you can feed your babies from 6 months of age.
Porridge (Baby Food – 6 months onwards)
Kanji or porridge is a great way to introduce solid foods to babies. It is usually around six months that babies are ready for solid food, but some are ready as early as four months old. Feel free to offer them solids at this point. Ragi has always been a baby-weaning grain, particularly in south India. Usually, rice is given to babies, but Ragi is another grain commonly fed to babies. 
A health-promoting whole grain, Ragi, also known as finger millet, was brought back to the forefront in recent years because of its nutritional value. While refined grains are refined and have only the endosperm left, whole grains contain the bran, germ, and endosperm. Ragi is a great crop that can survive in even the harshest climates, making it perfect for the Indian subcontinent. 
Babies older than six months are recommended to have ragi porridge/kanji. 
Ingredients
Two tablespoons Ragi Flour (Finger Millet/ Nagli), Homemade powder
1/2 Cup Water
50 ml Breast Milk Or Formula
Baby food – 6 months and up: Making Ragi Kanji / Porridge
Before making Ragi Porridge/Kanji, make sure you have Ragi powder on hand. Homemade Ragi Powder contains no preservatives like those found in store-bought powders, and it contains no added sugar like those found on store shelves. 
Learn how to make Ragi Powder at home. 
Pour 1/2 cup of water into a small pan and add two tablespoons of ragi powder. Whisk well to combine before bringing to a boil.
When the baby ragi porridge is combined, place it on heat and stir vigorously until it thickens. 
After you turn off the heat, make sure it cools completely.
Combine the breast milk or formula with the oil and mix well. 
You should add water to the porridge if you have added a formula. Pour a little water into the bowl so that the formula melts into the porridge. Adding formula directly to the pan during cooking will make the formula scorch. 
You can cool the porridge to room temperature or keep it warm – whatever your baby prefers.
Babies over six months of age should be served Ragi Porridge/ Kanji.
Banana Puree (Baby Food- 4 months onward)
It can be carried while travelling, and when your baby gets hungry, peel, mash, and feed the baby quickly.
The banana is excellent convenience food. Because bananas don't need to be cooked, you can carry them while travelling, and whenever your baby becomes hungry, peel, mash, and feed it immediately.
It is an excellent source of nutrition for babies, and they can be eaten as a first food. 4-6 months is the recommended age for introducing banana puree to a baby as solid food.
Did you know: 
The banana is often considered one of nature's perfect foods since it contains all the essential nutrients. It contains potassium and fibre, two of the vital nutrients in bananas. A banana is also a good source of vitamin B6, vitamin C, and B2.
Ingredients
1 Ripe Banana
Water, formula milk or breastmilk as needed
Banana puree: baby food for four months and older
Prepare one ripe banana for banana puree for babies by peeling and putting it in a bowl.
It is unnecessary to use any processor or masher to mash ripe bananas. For example, you can use a fork to mash them. It is essential to add water, breast milk, or formula milk to achieve consistency and texture.
You can blend the banana in a baby food blender if you prefer. The banana should be thoroughly blended.
Puree the bananas and transfer them to a serving bowl. Make sure the right consistency is achieved by adding milk, water, or formula.
Try Kerala Banana Powder from Yummy Valley.
Healthy Baby Food: Ragi Banana Porridge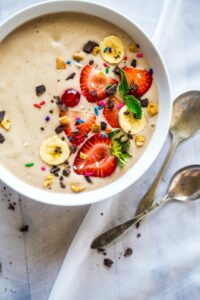 Using ragi and bananas to make a healthy baby food recipe, Ragi banana baby food utilizes the health benefits of both. Besides being rich in nutrition, antioxidants and other vitamins, ragi and bananas are very nutritious. It's the most critical time in a child's life, so it's best to make sure whatever you give them contains all the essential nutrients for their growth. Due to its nutritional value, made home baby food is a very easy to prepare option for a mother.
Banana and ragi are nutritious foods that can serve as an integral part of your baby's daily diet. There is evidence that ragi banana baby food recipes can benefit children's digestion and growth.
Get Sprouted Ragi powder from Yummy Valley.