/ Millet Recipes For Babies, Kids & Family
Millet Recipes For Babies, Kids & Family
Millet Recipes For Babies
How does it feel when you try new millet recipes for babies and hear your daughter giggle? It makes my day when she smiles at me. The smile on my child's face whenever I prepare millet-based recipes is wonderful to see. Seeing her happy makes me happy too. Also, due to their nutritional value, millets make for an awesome food for babies and toddlers.
According to archaeologists, Millet is so old that it is unknown whether any wild plants of this species extend into the wild today.  The result is a nutrient-rich diet for your child and a good choice for your health. A proper diet contributes to the healthy growth and development of your baby. Take a look at these healthy and tasty millet recipes for babies.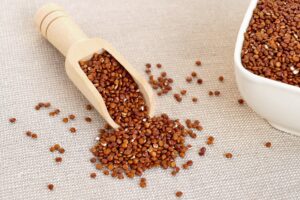 Benefits of Millet for Babies
Easily digestible and absorbed
Helps cure anemia and is an excellent source of iron
Contains a lot of calcium
Helps to relieve constipation
This foxtail millet recipe, also known as Tenai Khichdi or Navanes, is simple and easy to prepare with only a few ingredients that you likely have in your kitchen, and I am certain you will be able to whip it up in no time. We are going to make a yummy Millet baby food that's going to satisfy your hungry baby, toddler, or even yourself. The baby food can be given to babies over 8 months old.
The whole millet can be stored in a dry, cool place for several months. Additionally, packaged millet comes with an expiration date that lets you know how long it can be stored. Keep them in an airtight container and store them in the refrigerator.
Especially if you are dealing with ground millet, you have to be careful. Keeping the cereal in the fridge prevents the natural oils from turning rancid. Get quality millet powder to make millet recipes for babies.
You should also inspect the grains, especially if you don't use them as often. Small amounts of millet are recommended so that it does not go rancid. You can save time and effort by buying a Millet health mix from Yummy Valley. 
You can find more Millet Recipes here that are perfect for kids and babies.
Khichdi Made With Foxtail Millet
Babies, toddlers, and children will enjoy this dish. Simple and easy to prepare, Foxtail Millet or Navane or Tenai Khichdi for babies or toddlers can be made from very few readily available ingredients at home. It is great for breakfast, evening snacks, and dinner
Ingredients
Ghee/oil – 2 tablespoons
Mustard – 1 teaspoon
10 Curry Leaves
One-inch ginger 
Two tablespoons of cooked cumin (finely ground)
Powdered pepper – 1 tsp 
Four slits – Green Chilies
One cup Foxtail Millet
Half a cup of Moong Dal
6 cups of boiled water
1 teaspoon of lemon juice (optional)
Two tbsp grated coconut (optional)
10 pods of garlic (optional)
Method
Ghee/oil is added to the pan, followed by the ingredients listed below.
Fill the same pan with the washed Foxtail Millet and Moong Dal, then pour the boiled water over them.
Cook it for 20 minutes or 3 whistles, adding salt as needed and lemon/coconut/garlic as needed.
It should be sufficient to soak Foxtail Millet and Moong Dal for 5-8 minutes.
I'm sure your loved ones will enjoy this simple and quick dish.
Tips:
Foxtail Millet and Moong Dal will benefit from soak times of 5-8 minutes.
Method Of Preparation
In a pan, heat some ghee or oil and add the following ingredients for the temper.
Pour the boiled water into the same pan with the wash Foxtail Millet and Moong Dal.
Cook for 20 minutes or three whistles, adding salt as needed and lemon, coconut, or garlic if desired.
In general, 5-8 minutes should be enough for Foxtail Millet and Moong Dal to soak.
There is no doubt that your family and friends will enjoy this simple and quick dish.
Foxtail Millet With A Carrot For Babies, Toddlers & Kids
For those who are short on time or need a quick snack, this recipe is what I make in those situations. The recipe requires only a few ingredients and is simple and easy to prepare. This recipe is easy to make and packed with nutrients and proteins. It takes less than 10 minutes to prepare. The total time is needed to get this done is 40 minutes.
Ingredients
600 grams carrots
100 grams millet
Steps To Prepare
Prepare carrots by peeling and slicing them. Place carrots and millet in a pot, along with enough water to cover. Put on the stove and boil.
Simmer until the vegetables are soft, about 30 minutes. Puree. Depending on the water content, add more.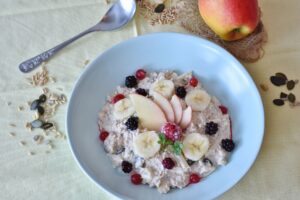 Apple Pear Millet Porridge:
You Will Need:
2 tablespoons millet
1 1/2 cups of water
Peeled and cored 1/2 small green apple
Peeled and cored half a small pear
How To:
Place millet in a coffee strainer and rinse it under running water.
Add the ingredients to a pot and cook for roughly half an hour until the porridge is thick.
For the porridge, smash the apple and pear pieces with a fork.
Serve it to your little one after waiting five minutes.
Note:
You can provide your child with many health benefits by feeding him/her milt. Please consult her pediatrician before including millet in her diet if she has wheat allergies or other conditions. 
Millet: Why It Is Good For The Baby
Your baby will benefit from eating millet. This grain is gluten-free, nutritious, versatile, digestible, easy to digest, and less allergenic than other grains suitable for baby food. Additionally, millet is similar to barley in shape and size, so it makes a good finger food. In addition, it is easy to digest because of its smooth texture. To experience the taste and goodness of millet, try millet recipes for babies.
Get the most out of millet through millet recipes for babies. Copper, zinc, and manganese are also found in trace amounts in millets. Phytic acid and fiber, as well as essential amino acids like lecithin and methionine, lower cholesterol levels and reduce cancer risk. Around six to eight months old is the right time for your baby to begin eating millet. Introduce it on the first day with just a teaspoon and gradually increase the amount. Making millet cereal recipes at home is the best course of action. You should, however, consult your pediatrician before giving any new food to your child.