/ Millet Bites Triangle Almonds Are My Secret Ingredient
Millet Bites Triangle Almonds Are My Secret Ingredient
Almonds for Babies
It's much easier than you might imagine preparing baby food at home. In addition, you still have to research and choose the right products while ensuring they are designed according to safety regulations. Almonds for babies are a good place to start.
Now that your baby is ready for solid food, you can feed him. When a baby is born, eating well can be an exciting time but can also be scary. There are so many to choose from when it comes to selecting foods for your child. You may have heard of almonds and millet baby food recipes, but what are they? What do almonds and millet taste like mixed? Is this a healthy food choice?
Your baby's food will be healthier and more nutritious with almonds and millet. With them, you can prepare various healthy and tasty dishes, notably starters and desserts. Other dishes can be enhanced with almonds and millet to give them a pleasant flavour and additional benefits. 
When Can Babies Be Introduced To Almonds?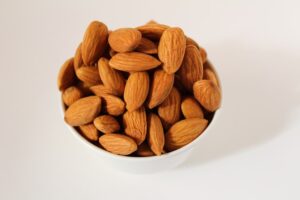 As soon as your baby is ready to start solid foods, typically around six months of age, you can introduce almonds. It can be in finely ground nut butter or smooth nut butter thinned with breast milk, formula, yoghurt, or water to reduce the risk of choking. We have provided some age-appropriate preparation tips for almonds, a common allergen.
It is recommended that solid food be introduced after six months of age. The addition of almonds to a baby's diet should be delayed for a little while. If your baby is nine months old or older, you should begin giving him almond powder. Begin with a small amount mixed with other foods, about a spoonful. Take it slow when it comes to almonds for babies.
It is also a good idea to wait a few days to see how well your baby responds to it. Nut allergies are pretty common among toddlers. If your baby develops an allergic reaction to almonds, you must stop feeding him almonds in any form. If you do not notice any allergic reaction to the formula, you may gradually increase its dose to three spoons daily.
Almond Porridge 
Here is a detailed almond porridge recipe.
Ingredients
Dry almond powder, two teaspoons
Approximately two tablespoons of Suji
1/2 teaspoon Ghee / Clarified butter
125 ml Whole milk
50 ml water
1/2 teaspoon Jaggery / Apple Sauce / Honey (for sweetening)
Instructions
On a low flame, heat the ghee and add suji. When ghee melts, add the suji and sauté for about a minute. When done, add the water and stir well.
Then add milk and allow this mixture to boil for about 3 minutes while stirring continuously to prevent suji from sticking to the bottom of the saucepan. Jaggery is added, and lukewarm rice is served once the mixture has been mixed well.
Recipe Notes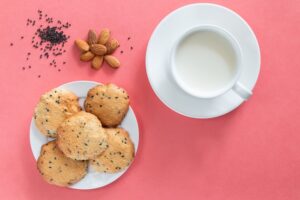 Make sure you don't add too much jaggery, as a tiny amount of jaggery will be sufficient for the babies.
You can sweeten the porridge by adding about one tablespoon of apple sauce.
Honey may be added to the porridge to sweeten it by about 1.5 teaspoons.
Grinding is an option.
Almond Halwa
Learn how to make almond halwa by following the step-by-step instructions.
Ingredients:
Two cups ground almonds or two hundred grams
Approximately 250 ml or one cup of water
Sugar-free sweetened condensed milk in a tin or 400 g of milk of any type you give your child
One tablespoon of ghee
½ teaspoon saffron powder
Flaked almonds, one tablespoon
Methods:
Almonds should be soaked in water for 30 minutes.
Put the milk and ghee in a medium pot and heat until warm but not boiling. Stir for 20-30 minutes until the halwa has a stretchy texture and starts to pull away from the pan.
Ten minutes after you add the saffron, add the raisins. Once it has cooled slightly, please remove it from the heat. Then plate it.
Almond Cookie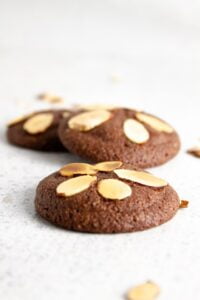 For making simple and quick snacks for children, you can save this recipe for later.
Ingredients:
½ cup Almond powder
2/3 cup Plain flour
Two tablespoons cornflour
1/3 cup powdered sugar
A pinch of salt
½ tsp baking powder
1/3 cup butter
Method:
Combine cornflour, plain flour, baking powder, and salt in a large bowl.
Beat the butter and sugar until they are fluffy with a hand blender. When the flour mixture is sifted, add the almond powder and mix until the dough is soft.
Refrigerate the dough after wrapping it in the plastic paper.
Once the dough has rested for a few minutes, it should be rolled out 1/2 inch thickness. Make the desired shapes with cookie cutters. Sprinkle almonds on top of each cookie.
The cookies should be baked for 20-22 minutes at 170 degrees Celsius.
Basil Almond Pesto sauce
You can use this recipe to gain more weight for your baby. You can use this sauce to make pasta or lasagna and a dip. 
Ingredients:
1 1/4 cups fresh basil leaves
One clove Fresh Garlic
Ten whole Almonds
1/4 cup fresh grated Parmesan cheese
1/4 cup Olive Oil
Salt and pepper to taste
Methods:
To combine basil, garlic, almonds, and parmesan cheese, blend or process them. Finely chop almonds before blending.
Blend until completely smooth. Drizzle in olive oil slowly. Stop the blender or food processor as necessary so that you can scrape down the sides.
Season with salt and pepper to taste.
Benefits of Almond for Babies and Toddlers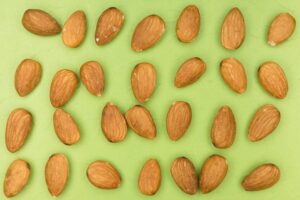 It has long been believed that almonds are a superfood that can significantly benefit babies and toddlers. Some of these benefits of almonds for babies include:
Your baby's skin may become soft and supple after eating almonds due to their high vitamin E content.
Almonds will strengthen your baby's immune system because almonds are alkaline.
Infants and toddlers benefit from almonds when it comes to brain development.
Due to their high calcium content, almonds help strengthen your baby's bones.
Although almond powder can readily be bought in the market now, it is always recommended to make it at home since it provides nutrition without adulteration or extra sugar. The following chart summarizes almond powder's nutritional attributes.
Try Something New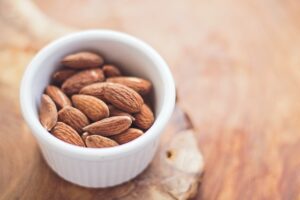 Generally, babies start weaning around the age of seven months, which means they will consume less food. Millets are a great combination of almonds and almond milk to boost their nutritional status. Almonds, for example, are a good source of protein, fats, and vitamins. The dietary fibre in millet is rich in vitamin B, iron, and manganese. These nutrients are beneficial to grow babies. Almonds for babies are packed with the ideal nutrition babies need. Strong bones, a healthy nervous system, and a growing brain's building blocks are all in one nut. If your family is looking for ways to incorporate more healthful foods into the baby's diet, why not add almonds? And be sure to share this helpful information with friends and family looking for alternatives to standard baby food recipes.
Check out the latest products at Yummy Valley.