/ Here's how to make Wheat Porridge
Here's how to make Wheat Porridge
Wheat porridge 
 Baby wheat porridge: Wheat is one of the grains Indians have used for centuries. This flour is used to make rotis, parathas, halwas, Dalia, upmas, dosas, snacks and many more. Wheat is a common grain in India, and our bodies have no problems with gluten naturally present in wheat. Baby wheat is different from adult wheat, and you must be careful when you introduce it to your child.
When to introduce wheat to a baby?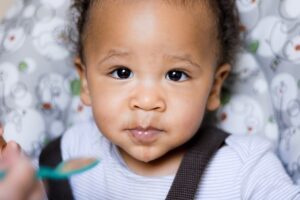 Usually, in the first six to eight months of a child's life, solid foods are introduced. Babies are exclusively breastfed for the first six months of their lives. For the baby to be used to solid foods, solids are presented in a complementary manner. In other words, breastfeeding or formula are the primary sources of nutrition for a baby until they turn one year old.
In the beginning, single fruits, single vegetables, and single grains are offered. Rice, Ragi and Oats, were first introduced since they are considered the safest.
You should not give your baby wheat as a first grain because wheat is a known allergen. Once you have introduced other grains after eight months, raising this grain is a good idea.
How to introduce wheat to your baby?
On the market, there are three types of whole wheat. Whole grain comes first, followed by flour (atta) and broken wheat (dahlia). When it comes to all three, whole wheat or cracked wheat is best because they are the least processed. However, flour or atta is the most convenient.
It's essential to use homemade or milled flour in the baby's first year, and the digestive system is still developing, so it's best if it's organic flour.
I carried milled flour from my mum's house in India whenever I had a baby. It was hard for me to wash, sundry and then milled the whole grains here since I couldn't clean, sundry and mill.
Using atta as the essential ingredient, I share this recipe for wheat porridge. Wheat porridge can be flavoured with apples, bananas, chikoo (paal sapota), pears or papayas.
Porridge made with apple and wheat has been shared here. In the same way, you can make it with whatever fruit you have already introduced to your baby.
A great deal of energy can be derived from wheat, the most widely available cereal grain. Baby food generally consists of porridge, one of the more popular types of food. While some prefer it salty with many green and colourful vegetables, others like it sweet with vast amounts of dry fruits. This simple wheat porridge recipe will make it easy for you to prepare a wholesome cereal meal for your baby. Various health benefits of the wheat porridge recipe are guaranteed to benefit your baby.
Wheat Porridge For Babies
It is a vegetarian meal suitable for babies over 11 months. Wheat porridge for babies is really awesome.
Ingredients
1 cup (coarse) wheat
1/2 cup yellow moong dal
One-fourth cup of almonds
A mixture of wheat and rice 1/4 cup
1.5 teaspoons powdered jaggery
 Half a cup of hot water
 3/4 cup hot milk
Instructions
Step-by-step instructions for making wheat porridge for toddlers are provided here.
Learn how to make a wheat mix for porridge first:
Heat a thick bottomed pan on the stovetop.
Afterwards, dry roast the almonds for five minutes on low-medium heat.
Roast the almonds, allow them to cool, and grind them coarsely.
Moong dal should be cleaned thoroughly and dry under the sun for 20 minutes.
Sun-dried moong dal should be added to the pan and roasted until golden brown.
The roasted moong dal should now be ground and mixed with coarse almond powder.
The coarse wheat should be roasted until it releases a pleasant nutty aroma.
After mixing everything, the grains are ready for making wheat porridge.
For making wheat porridge: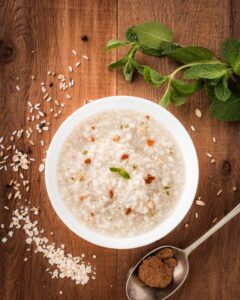 Pour 1/4 cup of water into a pan and add jaggery powder or unrefined sugar.
Boil the mixture until the chocolate melts.
Pour the jaggery water into a saucepan after straining it with a filter.
In a saucepan, heat 1/2 cup of wheat mix.
After 10-15 minutes, allow it to cool.
Stir continuously while cooking to prevent the porridge from sticking to the pot.
The wheat is cooked when it can be easily pressed and mashed with the back of a spoon.
Put milk into this now.
Continue simmering for another 5 minutes.
Turn off the flame once the porridge has reached the desired consistency.
It should be served lukewarm.
Recipe tips
Porridge can be supplemented with other healthy elements like powdered cashew or almonds to enhance taste and nutrition.
Try making a semi-fine powder for the wheat mix if you introduce your child to wheat porridge for the first time.
Fruits like bananas and apples can be added to this recipe.
You can substitute unrefined sugar or jaggery powder for white sugar. These are better for your baby's health.
No milk should be added to this recipe if you make it for babies younger than one year.
Health benefits
Healthy nutrients and vitamins are abundant in wheat porridge. Our homemade wheat porridge baby food recipe offers several well-known health benefits.
Whole wheat contains several nutrients, including Vitamin B, that provide energy to the body for an extended time.
Carbohydrates make up the bulk of it, making it an essential energy source.
It helps maintain bone health and bone strength.
As a result, it streamlines digestion and relieves constipation in babies.
Babies benefit from it since it stimulates proper physical development.
It prevents the body from developing metabolic disorders.
It enables the body's metabolism due to its high fibre content.
Buying guide
Learn how to select the right ingredients for this delicious wheat porridge recipe now that you understand how to make wheat porridge.
When buying grains for your toddler, make sure they are fresh and organic.
Before purchasing, be sure to check the expiration date.
It is the easiest and best way to see how your child will respond to solid food if you feed wheat porridge. You can start with small portions and see how they respond. Baby will grow up to be a healthy toddler when they eat this nutritious meal.
Note for parents:
This simple Wheat Porridge can be a complete meal. It is full of fibre and protein, plus it is easy to digest also. Wheat porridge is tasty and healthy, but you can also add some other ingredients such as fruits, dried fruits, nuts or seeds. After using this recipe, the ultimate conclusion I came up with is that if you have tried all the classic porridges such as oatmeal, oat and soya, you should at least try out wheat porridge. It's tasty, healthy, and above all, easy to make. The texture is like thick cream of wheat, which appeals to my baby. It can be easily prepared for a quick breakfast or snack.
From Yummy Valley, you can find a variety of baby food products.